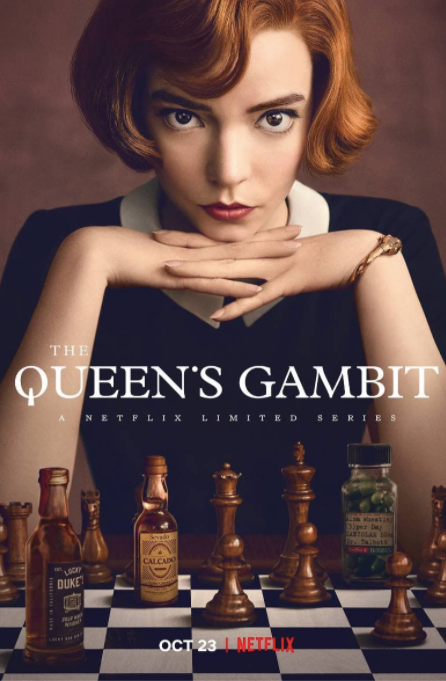 If you'd like your soul lifted, refreshed, and recharged for a long time, check out The Queen's Gambit, a seven-episode mini-series, on Netflix. Its story of Beth Harmon, a fictitious child chess prodigy who grows into a flawed but splendid champion, shines on so many levels.
The closest analog in real life is Bobby Fischer, an American child chess prodigy who went on to become World Chess Champion in 1972 by beating Boris Spassky, who held that title and represented the Soviet Union. Fisher's career went downhill after that, and The Queen's Gambit ends right after Harmon gains that victory, so there the similarity ends. But we're left with an extraordinary set of scenes and relationships.
Among my favorites -
Beth with Mr. Shabel, a janitor in the orphanage who recognizes Beth's talent and teaches her chess
Beth with the variety of boys and young men she usually beats in matches, and can't quite connect with or fall in love with.
Beth with her adoptive mother, who comes to deeply believe in her.
Beth in the Soviet Union, where she meets and bests a whole new series of masters and near-masters
Beth and Jolene, a friend at the orphanage, who turns out to be quite a friend indeed
As this list which I could go on with indicates, Beth is the centerpiece of just about every scene in the mini-series. And Anya Taylor-Joy delivers this role memorably, animating a character who ranges from almost autistic at the beginning to alcoholic and almost serenely triumphant at the end. Same for all the other characters - memorably performed that is - ranging from those chess boys young and old, to the pharmacist with whom Beth has her own unique relationship. Come to think of it, she has a unique relationship with just about each and every character in this narrative.
One of the main reasons The Queen's Gambit is so good is precisely because it comes from a novel, not real life, which all too often is not quite as incredible as the story told here. And, though I haven't yet read the Walter Tevis novel of the same name from which the mini-series is derived, I see on Wikipedia that he authored six novels before he died in 1984 at way too young an age, and three of them, including The Hustler, were made into movies before The Queen's Gambit.
All of which adds up to a real phenomenon on our hands, and cause for a big round of applause for everyone concerned, including Netflix for getting it on our televisions, computer screens, and phones.