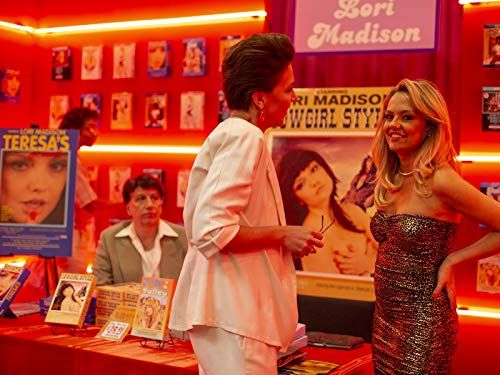 I mean, it's the final season (even thought it's only the third) of
The Deuce
, right? So we had to expect major changes. More than Lori failing at everything other than sheer porn that she tried (though, if you ask me, I thought her singing was pretty good). More than Candy being read the anti-porn riot act by Andrea Dworkin (a real person, by the way, who died in 2005).
So, it wasn't that surprising to see what happens to Frankie. On his birthday, no less. It's been building up to this all season, and there even were intimations of that in last year's second season. He doesn't pay his due respect to people with guns, including and especially the mob.
And so, he gets shot at the end of the episode. And it looks like he's dead, or dying, in his twin brother's arms. But then the coming attractions show him alive in bad shape in a hospital, or at least someone with a mustache who looks like him. It's probably Frankie - as far as we know we've been following the story of twins in
The Deuce
, not triplets (in which case, maybe the whole series would've been called
The Trio
).
But you know what? It doesn't really matter if Frankie is dead, or very badly hurt, in which case, he could die before the series ends, anyway. But even if Frankie survives, that's still going to amount to a very major change in the series. He won't be the same. Which means that his brother Vincent, who has been much more of the main character in this narrative, won't be the same, either.
I'm also sorry to say that I expect some other deaths before the series is over, anyway. Life is hard and dangerous, especially when you're in the kind of business that the twins and everyone around them are in.
See also
The Deuce 3.1: 1985
...
The Deuce 3.2: The First Amendment!
... The Deuce 3.3: Love and Money, Pimps and Agents
And see also
The Deuce Is Back - Still Without Cellphones, and that's a Good Thing
...
The Deuce 2.2: Fairytales Can Come True
...
The Deuce 2.3: The Price
...
The Deuce 2.4: The Ad-Lib
...
The Deuce 2.6: "Bad Bad Larry Brown"
...
The Deuce 2.9: Armand, Southern Accents, and an Ending
...
The Deuce Season 2 Finale: The Video Revolution
And see also
The Deuce: NYC 1971 By Way of The Wire
and "Working with Marshall McLuhan" ... Marilyn Monroe on the Deuce 1.7 ... The Deuce Season 1 Finale: Hitchcock and Truffaut
It all starts in the hot summer of 1960, when Marilyn walks off the set
of
The Misfits
and begins to hear a haunting song in her head,
"Goodbye Norma Jean" ...