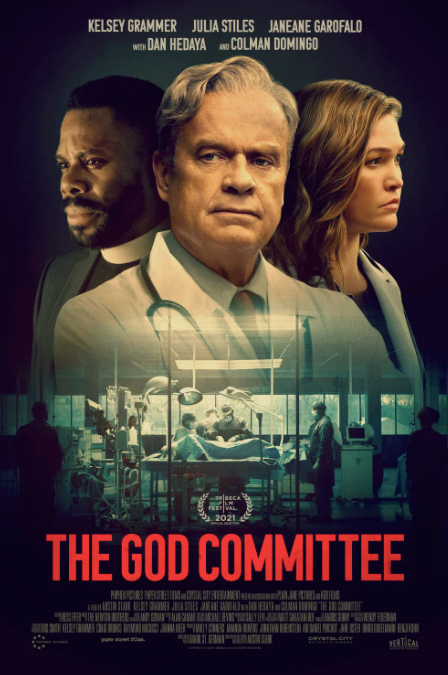 In Baltimore two weeks ago, a 57-year-old man received a genetically modified heart from a pig. So far, so good. That's not science fiction. That really happened. And for the very first time.
Which means that The God Committee, which debuted at Tribeca in June 2021, showed up later on Netflix, and I saw this evening, is not science fiction, either. Dr. Boxer, well-played by Kelsey Grammer, is working on transplanting a pig's heart into a monkey in the movie, and could well have been doing that in our reality. And to make The God Committee even more profound, that's not even the centerpiece of the story.
That would be the way that decisions are made in hospitals in transplant cases, in an an environment, our environment, in which there are an intractable paucity of vital organs suitable for transplant to desperately needy people. If we could obtain such organs from pigs, that would be a life-and-death game changer, literally. The real events two weeks ago show we're just about there, and the movie depicts a yesterday that is not quite over as yet.
And therefore the gamut of human foibles and flaws figure in the God Committee's decisions. If someone's family wants to donate millions of dollars to the hospital, will that influence at least some decisions of some of the members of the committee? Of course it will. So will other not explicitly medical factors, such as the family support the recipient will have, and the inevitable social politics and pecking order in any committee decision.
These are all brought to bear in this memorable movie. In addition to Kelsey Grammer, Julia Stiles puts in a strong, sensitive performance as a doctor and Boxer's soon to be erstwhile lover, as does Janeane Garofalo as another doctor with a keener pragmatic sense than most, and Colman Domingo (Fear the Walking Dead!) as Fr. Dunbar
I'll say no more about the plot, because I don't want to give anything away. But I will say see this almost science fiction movie and the indelible moral drama it presents. Good work by writer and director Austin Stark, from the play by Mark St. Germain.