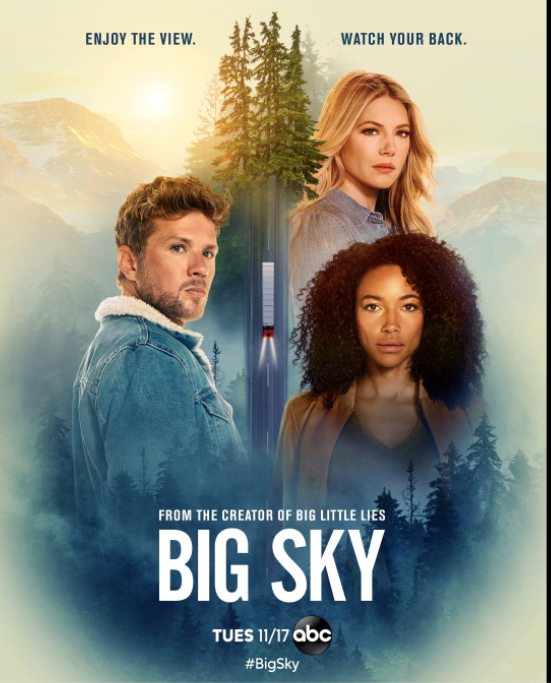 Big Sky was back last night after its long break with a double episode, and what felt a lot like a new season, not just the second part of the first. That's because Legarski is gone and Pergman looks like a bit like a demented John Denver, or a Denver holding in his homicidal urges and instincts. He has a girlfriend who seems to love or at least really care about him, with a child that Pergman seems to be a good father to. He tells his girlfriend he's sorry every time he blurts out something from his twisted, angry inner self.
But there's no shortage of bad guys who are evil and dangerous both inside and out. In fact, a whole new family, with Horst Kleinsasser (played by Monk's Ted Levine as the patriarch) who are up to no good and worse. The net effect is a tableau of dangers Cassie and Jenny have to face, even with Pergman out of that picture. But I have a feeling he won't be out of it too long.
The dialogue, as in the first part of the season, is snappy, sarcastic, and refreshing. And peril lurks at every turn. Cassie doesn't like a young cop, and remarks to Jenny that he's an "asshole". That's a good call -- he kidnaps Cassie at the end of the second episode, to do who knows what to and/or with her.
My guess is this cop is Legarski's successor, or connected to the same young women trafficking ring as the departed bald guy. That part of the first part of the season's story -- the full extent of the trafficking ring -- was never addressed last season. In addition to Cassie's fate, the big question now about that ring is when Pergman will reconnect with it.
All in all, Big Sky remains an attractively quirky show, with those wide Montana vistas still being so well welcome to look at as we slowly come out of our lockdown.
See also Big Sky 1.1: A Pretty Big Deal ... Big Sky 1.2: The "Goods" and the Ruined Plan ... Big Sky 1.3: "You Kidnapped the Wrong Girl" ... Big Sky 1.4: Controls on Psychos ... Big Sky 1.5: Winter Finale Indeed! ... Big Sky 1.6: "Sweet Psycho" ... Big Sky 1.7: The Montana State Trooper ... Big Sky 1.9: Crafty Ronald