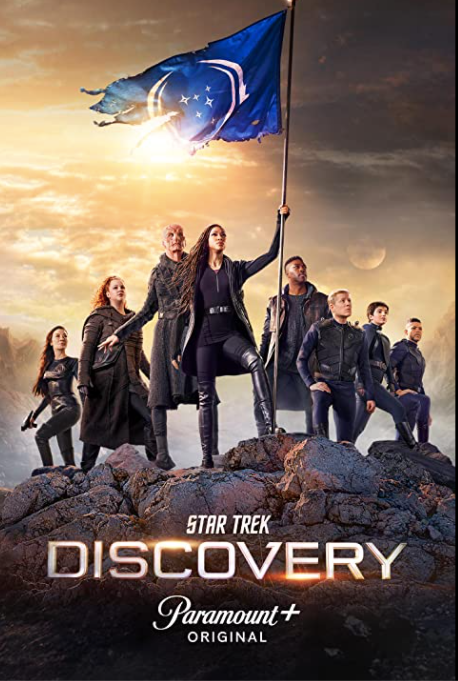 Checking in with a review of Star Trek: Discovery season 3, which was on CBS All Access now Paramount+ nearly a year ago, but I just had a chance to binge-watch the past few days.
The first 10 of its 13 episodes were a mix of good, ok, and very good. The final three episodes were pure gold, with outstanding hand-to-hand combat, and some of the best personal stories and trials and tribulations in any Star Trek, of whatever vintage, on whatever kind of screen.
First, it was ingenuous to move the storyline in this season from before the start of Star Trek: The Original Series to further in the future than any other Star Trek narrative has been located. I won't give away too much of the plot in this review, but I will say that although we've seen plenty of time travel in many a Star Trek season, the goal of Discovery in staying in this far future -- what it must do -- is original, unexpected, and sufficiently cosmic to motivate all the twists and turns and surprises in the story.
The continuing characters, especially Burnham (Sonequa Martin-Green) and Saru (Doug Jones), really come into their own. And lots of memorable new characters this season, too. My favorites were Booker (David Ajala), Admiral Vance (Oded Fehr), Osyraa (Janet Kidder), and Kovich (David Cronenberg -- yes!). There was good integration of Vulcan and Romulus into the story, and a nice shout-out to "City on the Edge of Forever," with Paul Guilfoyle (CSI's Jim Brass) playing the Guardian of Forever.
I've come to realize -- and I may have said this is in an earlier review, but it's worth repeating -- that the Star Trek franchise is more than a superb one-of-a-kind series of television series and movies. It's a blueprint for our future, a blueprint which is helping that future come into being, by being such a continuing inspiration. Or, as I said my essay, The Missing Orientation, published late last year, "my lifelong commitment to doing what I could via writing and speaking to help lift our species off this planet was baked in for life by Star Trek in the mid-1960s."
The third season of Star Trek: Discovery amply continues that inspiration. I'll be back here with a review of the fourth season, which will start on Paramount+ on November 18, and everything Star Trek that comes after.
See also
Star Trek: Discovery 2: Tour de Force Story and Characters
...
Discovering Star Trek: Discovery
...
Star Trek: Picard: Non-Pareil