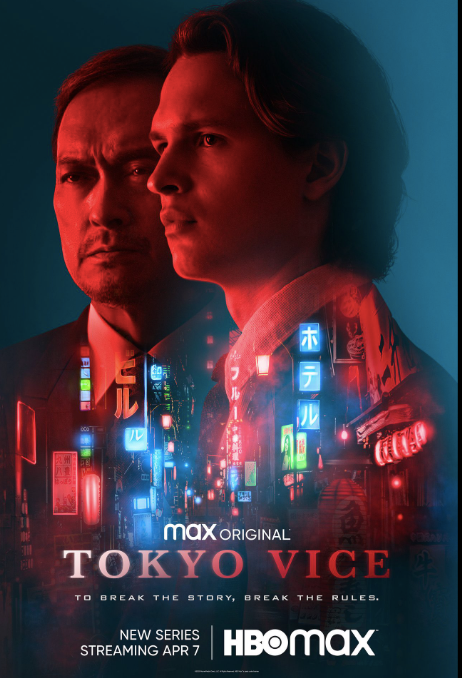 Just finished watching the eight episodes of Tokyo Vice, first season, on HBO Max, and I'm sorry I didn't see them sooner. A vivid, dirty, colorful sojourn into the Yakuza underbelly of late 1990s Tokyo, with cinematography so convincing you can smell the smoke, taste the booze and the delicious food as you're glued to a narrative so compelling you don't want to be anywhere else.
The story is said to be loosely based on Jake Adelstein's nonfiction book with the same name as the movie. In both cases, he's a young American who gets a job as a crime reporter with a Japanese newspaper -- first American to get such a job. I haven't read the book, know nothing more about the real Adelstein, so the rest of this review will be about the television series.
The story in the series abounds in partnerships -- business, romantic, even cop and criminal. My favorite of these is a triad of sorts between Jake, Samantha (a hostess in a men's club with dreams and plans for opening her own), and Sato (an up and coming enforcer for one of the two Yakuza clans in a life and death struggle for dominance in Tokyo). The acting of Ansel Elgort (I last saw him The Goldfinch), Rachel Keller, and Shô Kasamatsu in these roles was just superb. Other partnerships that animate the narrative are Jake's with Detective Katagiri, and Sato with Ishida (second in command but running the day-to-day operations in the gang). Ken Watanabe and Shun Sugata put in memorable performances in these roles.
There are, unsurprisingly, a bunch of surprising twists in just about every episode. I won't tell you anything specific, but I will say I very much regretted the apparent murder of a very major character in the end -- though I always say that if you don't see the character's head literally blown to pieces there's at least an outside chance that the character survived -- and I'm not a big fan of series that start with a provocative scene, and then devote the rest to the story that happens years before. But there will be a second season, and Tokyo Vice is so good that I it give my highest rating even with these flaws.