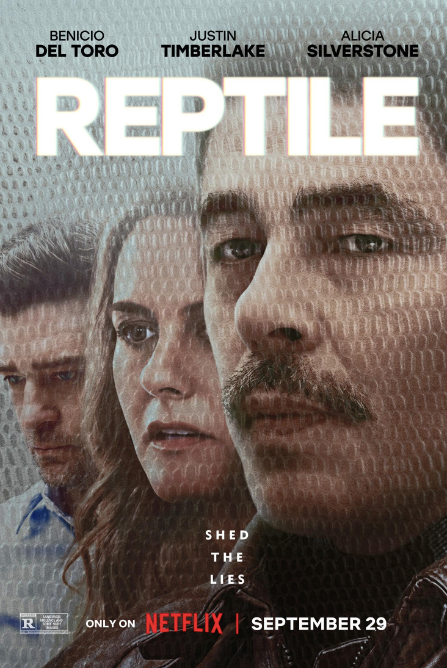 I saw Reptile on Netflix last night, a movie with touches of Body Heat and Blue Velvet. But it's most like True Detective, the anthology (new characters every season) but brilliant HBO series coming back with a new season in January 2024.
Meanwhile, Reptile has its grit and mix of painfully honest and corrupt detectives, investigating a lurid murder case. The victim is a real estate agent, in a less than happy relationship with her boyfriend, and--
[Spoilers ahead ... ]
It looks like the boyfriend didn't do it. But it turns out he did, and with a vicious vengeance. And when I say corrupt detectives, it turns out just about everyone working above or on the same level as lead detective Tom Nichols is running or turning a blind eye to a drug ring that Summer, a real estate agent and the murder victim, was unknowingly involved in. If this sounds complicated and little difficult to follow, it is. But the movie is lifted by some great music -- a new version of "Angel of the Morning" by Evie Sands Courtesy at the beginning and in the middle, and Dylan's "Knocking on Heaven's Door" at the end. And some superb acting.
Benicio Del Toro is always memorable on the screen, but he's better than ever in Reptile as Tom Nichols. Eric Bogosian, Domenick Lombardozzi, and Mike Pniewski are effective as Tom's varyingly corrupt superiors, Ato Essandoh is good as Nichols' junior and devoted partner Dan Cleary, and so is Alicia Silverstone as Tom's wife. Meanwhile, Justin Timberlake is just perfect as Summer's boyfriend Will Grady, though for some reason his excellent performances in just about every movie he's in continue to surprise me.
Del Toro, by the way, co-wrote the screenplay for Reptile, which has some fine film noir dialogue, with Grant Singer and Benjamin Brewer, and those two also wrote the story. Singer directed the movie. So a lot of talent went in to making this movie, and I'd say the movie amply reflects it. Indeed, I'll predict that Reptile will become something of a classic in the years to come.