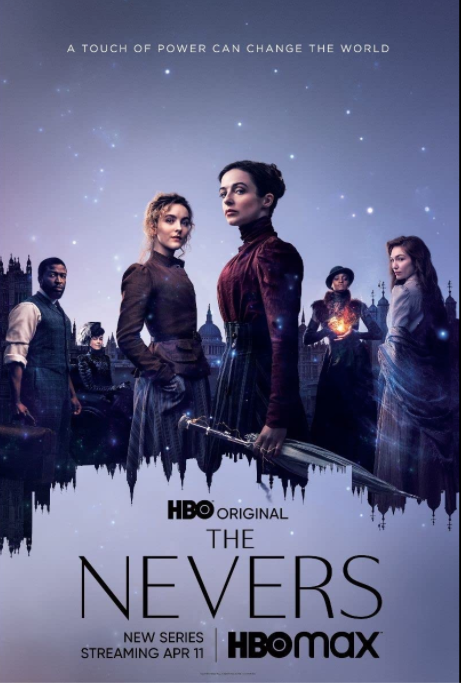 I wasn't going to watch The Nevers. I'd pretty much given up on superpowers on television after Heroes. On the other hand, how can you resist late 1890s London, the prime of Victorian times, the birth of The Time Machine, on the cusp of the 20th century? I couldn't, and I'm glad of it.
Or as Lord Massen says, halfway at this point between villain and defender of tradition, this is a time which hosts "the first generation accustomed to the impossible". He's right about that, but not about upholding English wording such as "the employed" over the French "employees". As Amalia True (Laura Donnelly aka Jenny Fraser of Outlander) aptly instructs Massen, the French has the advantage of easily describing a single employee or multiple employees. That's clearly true, as is True being a clearly good an intriguing character, not only because of her linguistic skills but her ability to see slightly into the future. Like I said, those late 1890s were a time of time travel, and The Nevers looks like it might mine that and many other wonders.
Some of these are already embodied in marvelous contraptions like a sleek, cool, late Victorian automobile which makes an appearance at the beginning and a gossamer flying machine which can bring back the dead or at very least the drowned which makes an appearance at the end, which come to think of it is consistent with reversing death, and promises lots of life in this series set to run on HBO in two six-episode segments.
The scenery is fetching, the accents delightful, and the acting is top notch. It was especially good to see Ann Skelly (from Red Rock!) as Penance Adair with the power to see electrical patterns, and Ben Chaplin (from Press) as Detective Frank Mundi. It's hard to beat those superpowers, but those late 19th-century detectives, on both sides of the Atlantic, had an impressive gruffness all their own.
So never say never. I'll be sticking with The Nevers and I'll see you here next week with another review.
"challenging fun" -- Entertainment Weekly