We learned on
Lost
tonight why Desmond calls everyone "Brother," why Desmond has been so keen on saving Charlie, that Demond's visions of the future are far from perfect, and Bernard (the last of the Tailees, as far as we know) is still around!
The Bernard part is the easiest - Sawyer mentions his name in the present tense. Presumably Rose is with him. They're not the most major characters on the show, but I was glad.
As for Desmond, he does apparently have the capacity to see the future - imperfectly, in part because his very knowledge of the future causes him to behave in ways he might not have (to either make that future happen, or prevent it), and this in turn can change the future. This puts Demond in the company of a long line of visionaries in science fiction and other genres, my favorite of whom is Paul Muad'dib from Frank Herbert's
Dune
.
There has been a lot of speculation that Desmond not only sees the future in his mind, but travels to and from it - as in time travel. No evidence of that tonight, but I guess it's still a possibility.
Desmond did prove that he's more than just single-mindedly selfish tonight, by not letting Charlie die to help fulfill his vision, and in that unselfish act he joins Sawyer and others who seem to be behaving a bit better on the island than in their earlier lives.
But the woman who falls from the sky, the woman Desmond has worked so hard to get to the island, turns out ... not to be Penny, though she does say Desmond's name.
Is this because Desmond saved Charlie, and thereby changed the ingredients necessary to insure Penny's delivery? Or was Penny never supposed to get to the island in the first place, and it was Desmond's wishful thinking that was blurry all along?
Enjoyable questions - and I'd still like to know how that coincidence of Jack running into Desmond in the stadium came about...
Useful links
:
The Enjoyable Trouble with Time Travel
my blog post
listen to 3-min free podcast of this review at
Levinson news clips
Dune
David Lynch's movie of
Frank Herbert's novel
---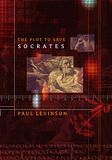 The Plot to Save Socrates
"challenging fun" - Entertainment Weekly

"a Da Vinci-esque thriller" - New York Daily News

"Sierra Waters is sexy as hell" - curled up with a good book