People often say that in today's mediated world, celebrities have no privacy. Whether in politics or entertainment, once you've been noticed by the public eye, it takes a long time to turn away or even blink.
Episode 4 of Showtime's
The Tudors
, which continues to present a compelling tableau of social history, shows this is nothing new. If what we saw with Henry's sister Margaret (played appealingly by Gabrielle Anwar) is any indication, being married to a monarch - in her case, the aged and repulsive King of Portugal, at Henry's implacable order - was not only no bargain. It was living in a gilded fish bowl.
Sofia Coppola's
Marie Antoinette
made this same point. Not only does everyone and their grandmother at the court watch you eat, but a select group watch you go to bed. The witnesses even keep a cocked ear to hear how well a marriage is consummated.
As amazing as these scenes were between Marie Antoinette and Louis, I found the bedroom of poor Margaret and the Portuguese King even more eye-opening. Better to be a dirt-poor peasant, and be spared having to tell a Cardinal waiting just outside the curtain, and listening to every sound, that the union was successful. Fortunately for Margaret, there is an option....
Meanwhile, back in olde England, Henry's undergoing a transformation. He gets scant satisfaction from the Pope's making him "Defender of the Faith" as reward for his polemic against Martin Luther, and moves ever closer to getting a divorce from Catherine.
This is something the Pope will certainly not want to reward Henry for, and will lead to consequences that will change the course of history.
Useful links
:
Derriere and Bosom on The Tudors: More of What the FCC Would Deprive Us Of
The King's Reformation: Henry VIII and the Remaking of the English Church
G. W. Bernard's 2005 book
The Soft Edge: A Natural History and Future of the Information Revolution
my 1998 book
The Tudors
Michael Hirst's brand new book!
my latest novel:
The Plot to Save Socrates
my reviews of other episodes of
The Tudors
: Episodes 1 and 2:
History So Colorful You Can Taste It
, Episode 3:
History So Real You Can Feel It
, Episode 5:
Madrigal Musical Chairs
, Episode 6:
Tectonic Chess
, Episode 7:
Henry's Imperfect Apothecary
---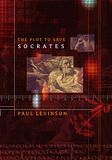 The Plot to Save Socrates
"challenging fun" - Entertainment Weekly

"a Da Vinci-esque thriller" - New York Daily News

"Sierra Waters is sexy as hell" - curled up with a good book