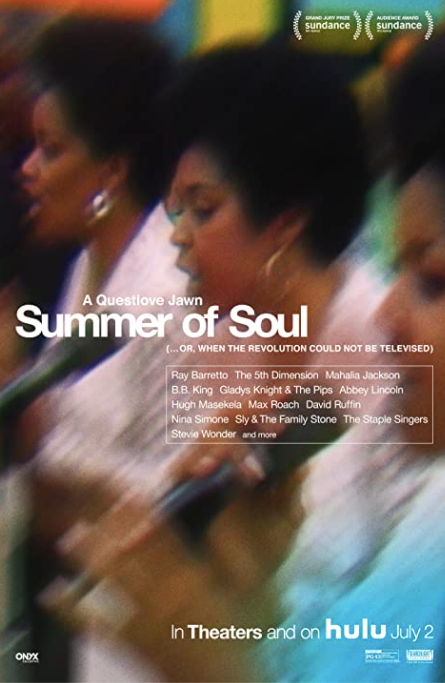 My wife and I just saw Summer of Soul on Hulu. We loved it.
It's a musical documentary, directed by Questlove, about a festival in Harlem in July 1969, in what is now Marcus Garvey Park. Around the same time as Woodstock and human beings first walked on the Moon. The concerts were superbly recorded -- both sight and sound -- at the time. The line-up included included Stevie Wonder, Sly and the Family Stone, Nina Simone, Gladys Knight and the Pips, the Fifth Dimension, the Staples, Mahalia Jackson, the Chambers Brothers, David Ruffin (he had just left the Temptations), and more. The mystery is why hasn't this been seen until now?
The obvious answer is racism, but there has to be more to it than that. I'm wondering why didn't Berry Gordy pick it up, for example? It's true that Woodstock sucked up a lot of the energy, but surely there were a sufficient number of people who would have been thrilled to see this back then, or any time since then, to get this fabulous tableau of a movie into theaters and/or onto old-fashioned television screens, so the world could have seen it long before now.
Anyway, here's some of what I thought was most rewarding in this documentary:
It was great to see Stevie Wonder, the Staples, and the Fifth Dimension sing songs I didn't know.
It was great to see some of these groups -- especially Sly and the Family Stone, David Ruffin, and the Fifth Dimension -- sing some of their hit records, aka songs I did know.
About the Fifth Dimension, it was also wonderful seeing Marilyn McCue and Bill Davis, Jr. in the present day, or close to it, watching and so deeply moved by their performances back in 1969. Clearly, this was the first time they were seeing this, too.
John Lindsay was Mayor back then. He remains, to this day, the only Republican I ever voted for (in 1969, the first time I voted, come to think of it) or liked.
Jesse Jackson was inspiring as always to see on stage back then.
The commentary, by Charlayne Hunter-Gault, Lin-Manuel Miranda, Darryl Lewis, and many others, was top-notch and clarifying.
One point made in the documentary that I don't agree with is the oft-heard lament that the money spent on the Moon landing could have been better spent elsewhere here on Earth. My take on this is that human beings are citizens of the universe, not just this planet, and getting our species out into the solar system and the galaxy and beyond will be a boon for all humanity.
But that doesn't stop in the slightest this documentary from being a masterpiece, and the rare combination of something that is immensely enjoyable (the music) and crucially educational on the subject of Black Americans being treated fairly and decently, a goal which we still in this country are clearly a long way from achieving.