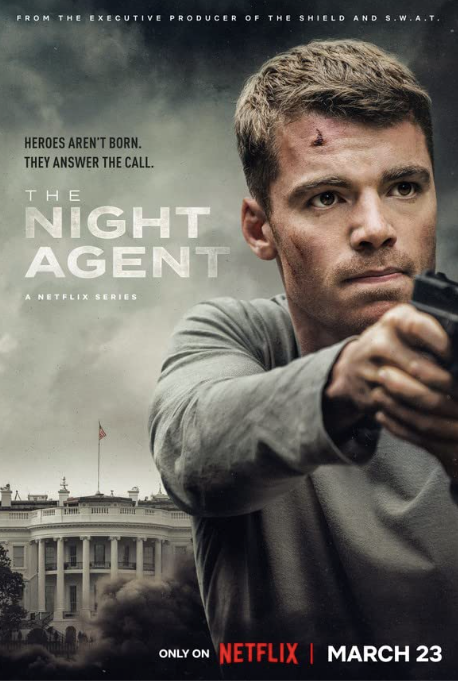 The wife and I binged The Night Agent on the Netflix the past few nights, and enjoyed it. Both the story, and the fact it was streaming rather than spun out episode by episode over ten weeks, or shown in two parts.
Shawn Ryan put it all together. He did The Shield, probably the best cop show ever on television, and Timeless, not the best time travel ever on television, but pretty good. I'd say The Night Agent is better than Timeless and not as good as The Shield, but that means The Night Agent is well worth watching indeed.
It's the most reminiscent of 24, even though it takes longer to unfold than a day, and there's no clock literally ticking. In fact, two of the medium important actors from 24 -- D. B. Woodside and Kari Matchett -- had important roles in The Night Agent, and they both did well. Woodside played a President (of the United States) in 24, and Matchett plays the same in The Night Agent.
The two lead characters -- Gabriel Basso as Peter Sutherland who works for the Night Agents and Luciane Buchanan as Rose Larkin -- who evolves from depending on Sutherland for her very life to saving his more than once -- are a sharp, spunky couple, and I look forward to seeing them again, whether in another season of The Night Agent (just renewed for a second season) or in other shows.
The villains are probably the weakest part of the story, on all levels, because we've seen something like all of them in one way or another many times before. But they propel a plot with surprises in every episode, and take part in lots of superb action scenes.
So, yeah, see The Night Agent, hold on to your seat, and enjoy.