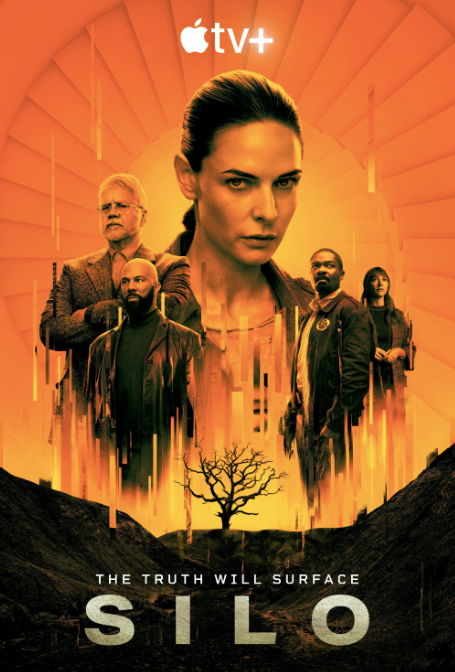 The excellent episode 1.4 of Silo up on Apple TV+ today is entitled "Truth," no doubt after the word inscribed on the back of Holston's sheriff badge, now in the possession of Juliet. But there wasn't much truth revealed in this episode, as far as I could see, and hence no spoiler warning immediately after this paragraph. But the episode was still a pleasure to see, and my guess is some of what we saw will be crucial in subsequent episodes.
It was good and informative to see Juliet as a teenager, and Iain Glen does a fine job of portraying her father over a decade earlier than we see him in the present. We do confirm that the mortality rate is really high for these denizens of the silo, and not because they all go outside to clean and apparently die.
[Ok, some new developments are ahead, so here's a mild warning about Spoilers ... ]
I'd say the most interesting strategic development in this episode is the deal that Juliet and Marnes pretty much make (pretty much, because Marnes may not be 100% aboard), which is Marnes will help Juliet find out who killed George (even though Marnes is not sure George was murdered) and Juliet will help Marnes find who killed the late Mayor Jahns. This makes Marnes an even more crucially important character than he's been so far.
Which in turn makes the final scene, and Marnes' survival or not, a really pivotal moment. We earlier are faked out in a scene in which it looks like Marnes is preparing to take his life, when all he's doing is constructing a punch bag or whatever that contraption is called. But the last scene clearly shows Marnes on the wrong side of a shotgun, after a valiant fight in which he almost gets the better of his presumably murderous intruder. Again, I haven't read the books, so I honestly don't know what will happen, but I think that Marnes will survive. On the one hand, life is cheap in the silo, as I said before. But on the other hand, Marnes's murder would take away a really big character, and one which Juliet has talked into what would really be an essential deal.
See you back here next week with my review of the next episode.
See also Silo 1.1-1.2: A Unique Story, Inside and Out ... Silo 1.3: Like Chernobyl, Repaired