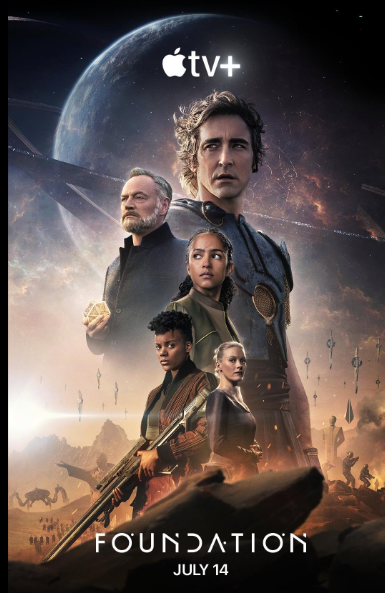 Foundation is back on Apple TV+ with the first episode of its second season. Here's a review, with no big spoilers.
Here's what this first episode of the second season is most like: the first season of Foundation on Apple TV+. Here's what it's significantly not much like: Isaac Asimov's novels, upon which this series is supposed to be based. But you knew that, and I said that, already. In fact, I just did, when I said the first episode of the second season is most like the first season.
And, to be clear. as I said in my reviews of the first season back in 2021, the dissimilarity of this TV series to Asimov's novels doesn't mean that it's all bad. But nor can I help not being disappointed, not missing the trilogy that I read and loved three times, and the sequels which I read once and loved not as much but well enough.
Once again, my favorite part of the TV series are the Cleon clones and Demerzel -- Cleon wasn't cloned in the novels and Demerzel was very different, but their rendition in the TV series is often superb. This continues in episode 2.1. Lee Pace as Brother Day is once again a powerhouse. Same for Laura Birn as Demerzel. And Terrence Mann as Brother Dusk is simmering and outstanding, and Cassian Bilton as Brother Dawn is memorable. All told, they tell an exciting, high intellect, high octane story vividly. And, yeah, they're the bad guys (I guess).
The good guys, who are supposed to be Hari Seldon and the Foundation, are not nearly as impressive. Jared Harris is a great actor, but he's been put in a box in this TV series, and even when he screams and yells he barely breaks through. And as for the rest ... Gaal and Salvor, well, I don't think I'd mind at all if they were almost unrecognizable from the characters with their name in the novels, if they'd been given a riveting story. Instead, we get mental gymnastics and proclamations of profundity with not much substance or appeal.
But I'll keep watching, because I enjoy the clone story, and I still have some hope somewhere that the TV series will deliver some of what I most enjoyed in the novels.
See also Foundation 1.1-2: Mathematician, Man of the People, and Cleon's Clones ... Foundation 1.3: Clonal Science Fiction, Hari Seldon as V. I. Lenin ... Foundation 1.4: Slow Hand, Long Half-Life, Flipped Coin ... Foundation 1.5: What We Learned in that Final Scene ... Foundation 1.6: Folded Variations ... Foundation 1.7: Alternate History/Future ... Foundation 1.8: Divergences and Convergences ... Foundation 1.9: Vindication and Questions ... Foundation Season 1 Finale: Right Up There