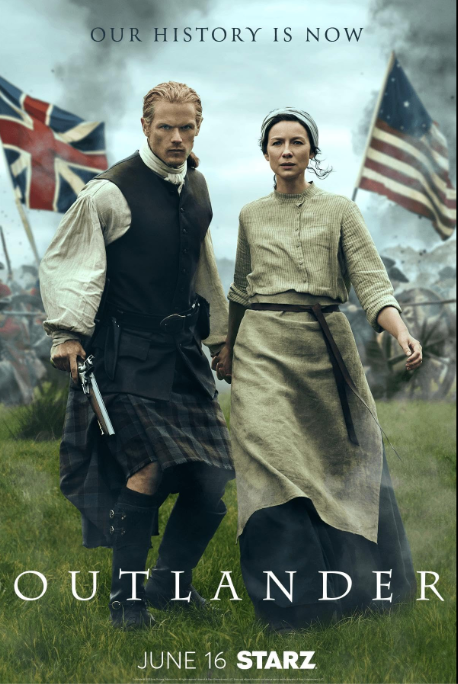 A deeply powerful and disturbing episode 7.7 on Starz this week -- indeed, one of the most disturbing in the series, for several reasons, which I tell you about, after I warn you about spoilers.
[And here's the Spoiler alert again ... ]
Ok, there was one one really enjoyable scene in this episode -- Brianna and Roger in bed. Good to see them so together and happy. Of course, that happiness would be very short lived, since they discovered a few hours later that their little boy had been kidnapped by Rob, who was taking their son somewhere else in time ...
And that wasn't the most upsetting. For me that was the 1st Battle of Saratoga, and the sheer depravity of war that it so graphically displayed. There's always a discrepancy between the nobility and the insanity of war -- the wanton killing of people. And watching that battle unfold on the screen was almost enough to make me a pacifist. (But I always also think about Bertrand Russell, a dedicated pacifist until Hitler and the Nazis changed his mind.)
And then, in the end, there's Jamie, lying on the ground, unconscious. I'll restate my standards for whether or not a character has been killed in a television series: if you don't see a head blown off or literally severed, there's always a chance the character survived. So, Jamie passes that test, even though we didn't see him move at the end of this episode, and there was no sign of him in the next episode.
We'll find out for sure (I assume) in the next week's mid-season finale. I'll will say it's been a really enjoyable season, and I especially like the time travel as talked about and enacted by Roger and Brianna.
See also Outlander 7.1-2: The Return of the Split ... Outlander 7.3: Time Travel, The Old-Fashioned Way
And see also Outlander 6.1: Ether That Won't Put You to Sleep
And see also Outlander 5.1: Father of the Bride ... Outlander 5.2: Antibiotics and Time Travel ... Outlander 5.3: Misery ... Outlander 5.4: Accidental Information and the Future ... Outlander 5.5: Lessons in Penicillin and Locusts ... Outlander 5.6: Locusts, Jocasta, and Bonnet ... Outlander 5.7: The Paradoxical Spark ... Outlander 5.8: Breaking Out of the Silence ... Outlander 5.9: Buffalo, Snake, Tooth ... Outlander 5.10: Finally! ... Outlander 5.11: The Ballpoint Pen ... Outlander Season 5 Finale: The Cost of Stolen Time

And see also Outlander 4.1: The American Dream ... Outlander 4.2: Slavery ...Outlander 4.3: The Silver Filling ... Outlander 4.4: Bears and Worse and the Remedy ... Outlander 4.5: Chickens Coming Home to Roost ... Outlander 4.6: Jamie's Son ... Outlander 4.7: Brianna's Journey and Daddy ... Outlander 4.8: Ecstasy and Agony ... Outlander 4.9: Reunions ... Outlander 4.10: American Stone ... Outlander 4.11: Meets Pride and Prejudice ... Outlander 4.12: "Through Time and Space" ... Outlander Season 4 Finale: Fair Trade

And see also Outlander Season 3 Debut: A Tale of Two Times and Places ...Outlander 3.2: Whole Lot of Loving, But ... Outlander 3.3: Free and Sad ... Outlander 3.4: Love Me Tender and Dylan ... Outlander 3.5: The 1960s and the Past ... Outlander 3.6: Reunion ... Outlander 3.7: The Other Wife ... Outlander 3.8: Pirates! ... Outlander 3.9: The Seas ...Outlander 3.10: Typhoid Story ... Outlander 3.11: Claire Crusoe ...Outlander 3.12: Geillis and Benjamin Button ... Outlander 3.13: Triple Ending

And see also Outlander 2.1: Split Hour ... Outlander 2.2: The King and the Forest ... Outlander 2.3: Mother and Dr. Dog ... Outlander 2.5: The Unappreciated Paradox ... Outlander 2.6: The Duel and the Offspring ...Outlander 2.7: Further into the Future ... Outlander 2.8: The Conversation ... Outlander 2.9: Flashbacks of the Future ... Outlander 2.10: One True Prediction and Counting ... Outlander 2.11: London Not Falling ... Outlander 2.12: Stubborn Fate and Scotland On and Off Screen ... Outlander Season 2 Finale: Decades

And see also Outlander 1.1-3: The Hope of Time Travel ... Outlander 1.6: Outstanding ... Outlander 1.7: Tender Intertemporal Polygamy ...Outlander 1.8: The Other Side ... Outlander 1.9: Spanking Good ... Outlander 1.10: A Glimmer of Paradox ... Outlander 1.11: Vaccination and Time Travel ... Outlander 1.12: Black Jack's Progeny ...Outlander 1.13: Mother's Day ... Outlander 1.14: All That Jazz ... Outlander Season 1 Finale: Let's Change History