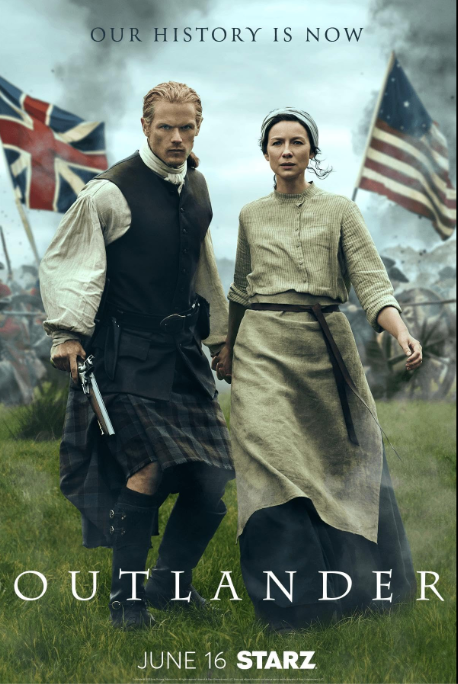 Well, not time travel, but communication from the past to the future, was a central -- and endearing -- part of Outlander 7.3.
[Spoilers follow ... ]
Of course, if you think about, written messages from the past show up and inform the future all the time. That's what happens every you read one of Plato's dialogues, a Charles Dickens novel, etc. And of course it happens any time someone brings one of Mozart's works to life -- and, more recently, you can hear the Beatles singing as if they made the record just yesterday.
But Brianna and Roger getting that box of letters from Claire and Jamie was just wonderful, and in some important ways very different from Plato and Dickens. Brianna and Roger didn't know whether Claire and Jamie had survived -- indeed, there had been an obituary in the papers which said that Claire and Jamie had perished in a fire. The box of letters proved what I think it was Ian who aptly said -- you can always believe what you read in the papers.
Of course, where time travel is involved, that unreliability of newspapers is especially true. Every drop of the time travelers hat can change what a future looking at a newspaper from the past is proclaiming. Time travel can supplant what that newspaper is saying with something much better or much worse.
I'm very glad the change was for the much better in Outlander 7.3. Claire and Jamie deserve it. The episode was also a great proclamation of their deep love, and that was also so good to see.
And I'll see you back here next week with my review of the next episode in this so far splendid seventh season of this classic.
See also Outlander 7.1-2: The Return of the Split
And see also Outlander 6.1: Ether That Won't Put You to Sleep
And see also Outlander 5.1: Father of the Bride ... Outlander 5.2: Antibiotics and Time Travel ... Outlander 5.3: Misery ... Outlander 5.4: Accidental Information and the Future ... Outlander 5.5: Lessons in Penicillin and Locusts ... Outlander 5.6: Locusts, Jocasta, and Bonnet ... Outlander 5.7: The Paradoxical Spark ... Outlander 5.8: Breaking Out of the Silence ... Outlander 5.9: Buffalo, Snake, Tooth ... Outlander 5.10: Finally! ... Outlander 5.11: The Ballpoint Pen ... Outlander Season 5 Finale: The Cost of Stolen Time

And see also Outlander 4.1: The American Dream ... Outlander 4.2: Slavery ...Outlander 4.3: The Silver Filling ... Outlander 4.4: Bears and Worse and the Remedy ... Outlander 4.5: Chickens Coming Home to Roost ... Outlander 4.6: Jamie's Son ... Outlander 4.7: Brianna's Journey and Daddy ... Outlander 4.8: Ecstasy and Agony ... Outlander 4.9: Reunions ... Outlander 4.10: American Stone ... Outlander 4.11: Meets Pride and Prejudice ... Outlander 4.12: "Through Time and Space" ... Outlander Season 4 Finale: Fair Trade

And see also Outlander Season 3 Debut: A Tale of Two Times and Places ...Outlander 3.2: Whole Lot of Loving, But ... Outlander 3.3: Free and Sad ... Outlander 3.4: Love Me Tender and Dylan ... Outlander 3.5: The 1960s and the Past ... Outlander 3.6: Reunion ... Outlander 3.7: The Other Wife ... Outlander 3.8: Pirates! ... Outlander 3.9: The Seas ...Outlander 3.10: Typhoid Story ... Outlander 3.11: Claire Crusoe ...Outlander 3.12: Geillis and Benjamin Button ... Outlander 3.13: Triple Ending

And see also Outlander 2.1: Split Hour ... Outlander 2.2: The King and the Forest ... Outlander 2.3: Mother and Dr. Dog ... Outlander 2.5: The Unappreciated Paradox ... Outlander 2.6: The Duel and the Offspring ...Outlander 2.7: Further into the Future ... Outlander 2.8: The Conversation ... Outlander 2.9: Flashbacks of the Future ... Outlander 2.10: One True Prediction and Counting ... Outlander 2.11: London Not Falling ... Outlander 2.12: Stubborn Fate and Scotland On and Off Screen ... Outlander Season 2 Finale: Decades

And see also Outlander 1.1-3: The Hope of Time Travel ... Outlander 1.6: Outstanding ... Outlander 1.7: Tender Intertemporal Polygamy ...Outlander 1.8: The Other Side ... Outlander 1.9: Spanking Good ... Outlander 1.10: A Glimmer of Paradox ... Outlander 1.11: Vaccination and Time Travel ... Outlander 1.12: Black Jack's Progeny ...Outlander 1.13: Mother's Day ... Outlander 1.14: All That Jazz ... Outlander Season 1 Finale: Let's Change History