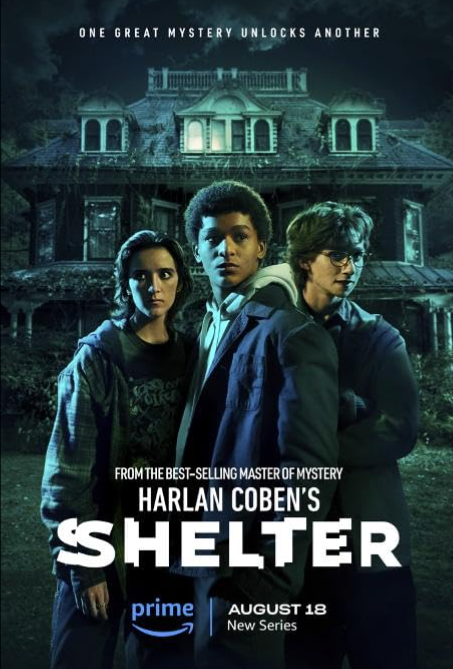 Stranger Things meets Hunters: that's what came to mind after seeing the first three episodes of Harlan Coben's Shelter (that's its name) on Amazon Prime Video back on August 18th, and I felt the same after seeing the finale eighth episode of what I hope will be just first season last night. By which I mean: the center of the story are a bunch of idiosyncratic highly intelligent high school kids (Stranger Things) but the larger picture is not some Duffer Bros horror story, but a group of all-too human slave traders descended in some way from the Nazis (Hunters).
Stranger Things starred mostly unknown or little known performers with the exception of Winona Ryder, Hunters was pretty much the same except it had the mega-star Al Pacino, and Harlan Corbin's Shelter was more like Stranger Things, with Tovah Feldshuh the biggest star. My wife and I first saw her on Broadway in Yentl years ago, and it's always good to see her again. The rest of the acting in Shelter was pretty good, too, with standout acting by Jaden Michael as Mickey, the hero of this otherwise ensemble story.
I'm not going to say anything specific about the plot, because there are narrative-upending developments in just about every episode. But I will say that you won't be sure or likely right about any of the villains until close to the end, and not every character you've come to know survives, and the ending will make you unsure about even that. I'll also say that just as Stranger Things exults in the 1980s, Shelter is very much in the present, with even a political awareness displayed by some of the characters, and that's very much Harlan Coben and very much welcome.
I'll also say that I wish all eight episodes had been put up all at once, as Amazon and Netflix used to do it. That's what created binging, which turned the TV series into a novel, where you could enjoy as many chapters as you wanted in one continuing experience, but that's become an increasingly endangered species, as the streamers want to maximize their continuing subscribers.
But now that all eight episodes of Harlan Coben's Shelter are up there, you can binge them in this our degraded media environment, which I highly recommend.
And I hope to see you back here when I review the second season, which I intend to do it there is one.