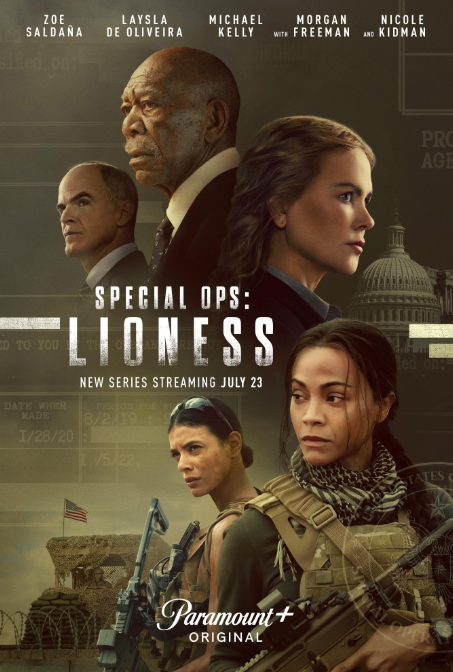 I just finished watching the 8th and final episode of the first season of Special Ops: Lioness on Paramount Plus, and here's my shot at a mostly non-spoiler review.
To begin with, this is a story about a recruit to a CIA hit team. The recruit is a woman, the target is an Arab oil magnate who funds terrorists, and the way the recruit is supposed to get to the target is she becomes friends with the target's daughter, so much so that she'll be invited to the daughter's wedding.
So, the first two parts -- the recruit being a woman, the target being a terrorist-funding oil dealer -- is obviously nothing new. But the way the recruit is supposed to get to the oil man is somewhat new, and the nitty gritties of the eight episodes are bristling not only with excitement but lots of originality.
Perhaps the most original is the impact this hit job has on three women: Cruz (the recruit), Joe (her superior and primary trainer), and Kaitlyn (head of the operation). I don't recall any CIA series in which women had so much power, and that in itself makes this series well worth watching. Men play important roles, for sure, but in many ways their most important roles are those that they play in the three women's lives.
And there is a fourth woman who also plays a central, crucial role -- Aaliyah, the target's daughter. Suffice to say that Cruz's mission to get to know Aaliyah has all kinds of unexpected consequences. Aaliyah is well played by Stephanie Nur, as is Cruz by Laysla De Oliveira. I don't recall seeing Nur on the screen before. De Oliveira was in Needle in a Time Stack, but I don't particularly remember her from that. It's a safe bet that I won't forget either of them after seeing Lioness. And Zoe Saldana as Cruz and Nicole Kidman as Kaitlin are of course very well known to me and everyone, but I've never seen them play characters quite like Cruz and Kaitlin. All of this adds up to characters who are fresh and powerful and convincing.
There were some cliched elements in the overall story, but I can't tell you what they are without giving too much away. But even if ten or twenty percent of the story is something we've seen in one way or another before, those kinds of tropes are unavoidable, and they really don't detract too much if at all from this blockbuster, painfully and redeemingly human, of a narrative.