I was thinking about HBO's
The Wire
, how much I love its theme song - Tom Waits' "Way Down in the Hole". It's probably my favorite tv song of all time.
Not just because you can't compare it to catchy light-weights like the Friends' theme song, or the many fine instrumentals like Lalo Schifrin's music for
Mission: Impossible
.
"Way Down in the Hole" is even better than
The Sopranos
's "Woke Up this Morning" (by A3)...
It's had an amazing life on the show.
Sung by four different artists, in four different ways, in each of
The Wire
's four seasons.
I loved the first rendition, by the Blind Boys of Alabama. Slow, soulful, melodic and harmonic. I couldn't believe how good it was.
And I couldn't believe it when they replaced it in Season 2 with Tom Waits' own version. I mean, ok, he wrote it, sure, and I like his voice ... but I really missed the Blind Boys' singing ... for maybe about three episodes, and then I was lovin' Waits' performance.
So, you can imagine how unhappy I was with the Neville Bros' version instead of Waits' (which by this time had become the standard for me) at the start of Season 3. The Nevilles - what I can say? I've been crazy about their singing since I first heard "Tell It Like It Is" in the 1960s. And I'll just throw in that Aaron Neville's voice can make a skyscraper sway, though I don't think he was singing on the Neville's version of "Hole".
Which I quickly came to think was my favorite of all the recordings, too.
Which is why I was so upset to hear DoMaJe singing the song in Season 4 - you'd think I would've learned by now - but, no, I was almost as irritated by DoMaJe's choppy version as I was that Idris Elba's Stringer Bell was no longer on the show (and I was plenty unpleased about that)...
But I came to be crazy about DoMaJe, too (and yeah, I thought Season 4 was outstanding - even though I still miss Stringer). And after the season was over, I listened to all four versions, and thought maybe I liked DoMaJe's the best...
But no, not really, I love them all ... each of them ... the hallmark of a brilliant song, brilliantly performed...
And I'm really looking forward to being really disappointed, yet again, when I hear what they've got going on "Way Down in the Hole" for Season 5...
See also
Looking Back At The Wire
---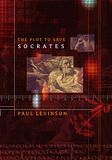 The Plot to Save Socrates
"challenging fun" - Entertainment Weekly

"a Da Vinci-esque thriller" - New York Daily News

"Sierra Waters is sexy as hell" - curled up with a good book
more about The Plot to Save Socrates...

Read the first chapter of The Plot to Save Socrates
....
FREE!