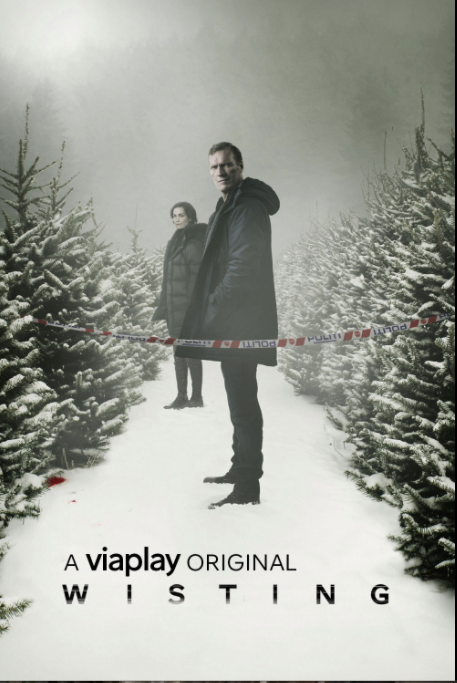 When they came up with the name Nordic Noir -- whoever that they was -- they surely had something like Wisting in mind. Not only does it take place in Norway and feature a seasoned detective and his team hunting not just one but at least two serial killers of beautiful blonde women, but in its single-ten-episode season it manages to weave together two quite separate though connected murder stories, and tell us compelling backstories for at least half a dozen diverse characters.
Many of the characters are of course police. William Wisting, whose name the series takes, is head of a unit with Nils (a detective Wisting's age who has almost nothing but contempt for the FBI pair who come to assist Wisting in the first half of the season, because the serial killer is likely a transplanted American), a younger male detective earnest but unseasoned, a woman who has to juggle in-vitro fertilization with her work on a breaking murder case, and like that. Carrie Anne-Moss (The Matrix) plays one half of the FBI team, and I didn't know the rest of the actors, but they are were superb.
The biggest personal story that runs through the season is the relationship between Wisting (a recent widower) and his daughter Line, an investigative reporter with penchant for crime stories, blonde, and you just know she's in danger from at least one of the serial killers, which in fact she is. She's played by Thea Green Lundberg whom, come to think of it, I did see in another fine Norwegian series, Occupied (with a memorable Dylanesque opening song), and she was excellent in both. And as long as I'm giving kudos to the actors, let me mention Mads Ousdal as Nils, who almost could be a Norwegian Jean-Paul Belmondo, and Sven Nordin, who does a perfect job as Wistng.
In addition to all that, the scenery is a sight for pandemic-sore eyes. Characters have homes on, over, or near the water, and the roads and the forestry are lush. Hey, I'm not a detective, but the environment was so inviting I was tempted to jump through the screen and see if I could be of any help.
I'll have to settle having seen a captivating season, and looking forward to a season two.