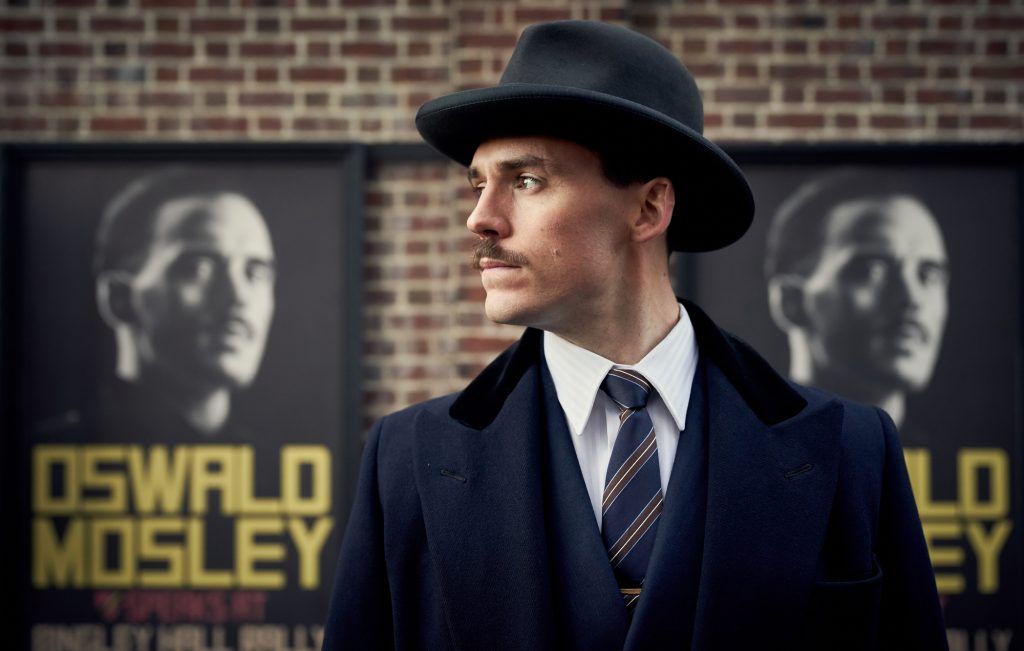 With fascism rearing its ugly heads around the world, including in the White House in the United States, it was timely, chilling, and good to see it front and center stage in Season 5 of
Peaky Blinders
on Netflix.
Thomas has intersected with British government in previous seasons. But in Season 5 we see him an eloquent member of Parliament, soon befriended by Oswald Mosley, a real MP who was prominent in the 1930s as head of the British Union of Fascists. I had heard of him, but didn't explicitly know his story, which worked well for watching
Peaking Blinders
, since the shocks were real shocks to me.
Mosley seeks to recruit Thomas as his second-in-command, or prime deputy. Thomas accepts, but seeks to use this position to bring Mosley down, with the cooperation of the British government. Thomas sees Mosley as "the devil," and he is, ranging from his treatment of women to his Hitlerian anti-semitism, and he's vividly portrayed by Sam Claflin (whom I don't recall seeing before, but will look out for now as a top-notch actor).
Fascism fed on the discontent and dislocations caused by the stock market crash of 1929. The Shelbys lose tons of money, and Thomas blames his cousin Michael, who was repping the family in America. The conflict between Thomas and Michael provides a trenchant secondary theme of tension in this season, and of course Polly is drawn into the imbroglio, since she's Michael's mother. Thomas still seems young and not that old (to me), but Michael and his wife cast the conflict with Thomas as one of age, with Michael urging Thomas to give way to a new generation and its new ways of conducting business. If you know anything about Thomas, you don't need to see this season to know how he will react to Michael's suggestions.
But you do need to see Season 5 for many other compelling reasons. Arthur once against presents an unforgettable portrait of a decent man riven by and unable to control the inchoate violence that inhabits his soul. Winston Churchill, who appeared earlier in the series, puts in another few captivating minutes (as MP - he was not yet Prime Minister). And the sheer flavor of the cultures portrayed, from the Protestant Scots to the Peaky Blinders' Jewish allies, is indelible.
Bring on Season 6.
See also
Peaky Blinders: Peak Television
...
Peaky Blinders Season 3: Still Peak
...
Peaky Blinders Season 4: Best So Far