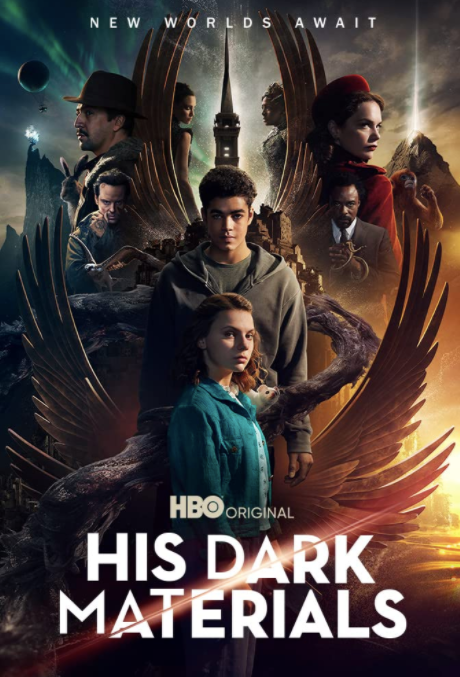 The second season of His Dark Materials concluded with episode 2.7 on HBO tonight. An odd number of episodes for any season, but they worked well enough, and HBO announced earlier this week that there would be a third and final season, which takes some of the pressure off tonight's finale to be definitive.
And it did answer some questions. Let's see, we know that the Spectres can take a sleeping witch. We know who Will's father is, even though now that "is" is "was". Lee was badly wounded, but it looks like another witch will bring him back. (Again, I haven't read the books.)
I thought the most interesting development was Lyra saying she's feeling that she's changing. In one scene, she's starting to look a lot more like her mother. She says the change has in part something to do with Will. She's changing into a woman.
Mrs. Coulter ended the season in the strongest position we've seen her in since the beginning of this story. Who or what is more powerful than the Spectres? Not the witches, though maybe a group of them will do better than just one, asleep. Not the Magisterium's Nazi soldiers. Coulter's power over the Spectres will make her a formidable force in the third season.
Mary had almost no role in this season finale. In many ways, she's our character, because she seems the most like all us here off the screen on our Planet Earth. I'm assuming she'll have a pivotal role in the final season. But there are still a lot of characters and story arcs at play. And in order for them all to be accommodated, we'll either need more episodes, or less time with the bear.
See also His Dark Materials 2.1-3: Dust, Dark Matter, and Multiple Universes ... His Dark Materials 2.4: Chosen by the Knife ... His Dark Materials 2.5: Daughter and Mother ... His Dark Materials 2.6: The Hug and the Control
And see also His Dark Materials 1.1: Radiation Punk ... His Dark Materials 1.3: Coulter's Daemons ... His Dark Materials 1.4: The Bears ... His Dark Materials 1.5: Sleepers and Questions ... His Dark Materials 1.6: His Fast Materials