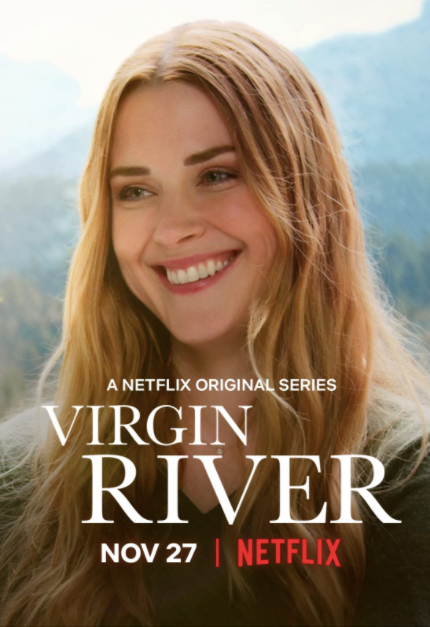 So my wife and I just finished binge-watching the two seasons of Virgin River on Netflix. What was I doing watching so much of a romantic drama that takes place in a beautiful town in the woods near the river of the title in northern California? Well, it does have a big dollop or more of crime in it, and criminal fiction is my second favorite beat, after science fiction which is my first. But that's not why I watched these two seasons.
The reason is I really liked this story of Mel, a nurse practitioner, who goes up to Virgin River, after her husband is killed in a car accident in Los Angeles. There she finds Jack's Bar, which is actually a restaurant owned and run by Jack, and a cast of effervescent characters including the mayor, Hope, and her estranged husband, Doc, a doctor. Hope is played by Annette O'Toole (great to see her on the screen again) and Doc Mullins by Tim Matheson. They're not the only ones who put in a great job of memorably portraying idiosyncratic characters. Jack is well played by Martin Henderson, whom my wife remembers and liked from Grey's Anatomy, and Mel by Alexandra Breckenridge, whom my wife likes in This Is Us. I've never seen either before, but both are excellent in Virgin River, especially Breckenridge, who does a fine job with the conflicting emotions that Mel is confronting and juggling.
Why else did I like Virgin River so much? The scenery is a real tonic after being locked down for almost three quarters of a year. Even the food in Jack's restaurant looked really delicious, probably for the same reason. I'd go out with my wife in a heartbeat to any restaurant where Preach was cooking, and he was well played, too, by Colin Lawrence.
So hey, if you miss cabins in the woods near a river on your summer vacation, or even just some great food in a restaurant that pops up on your trip, check out Virgin River. And be prepared, as well, for a compelling story that will keep you in your seat at home for as many days as it takes.