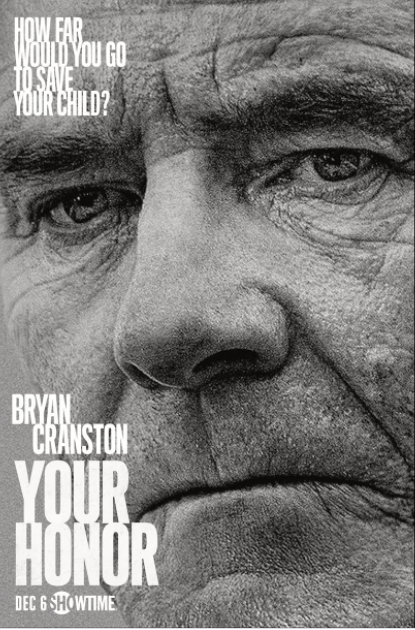 Let me start off my review of Your Honor 1.7 by saying the scenes between Cranston and Stuhlbarg -- the Judge and the mobster -- were so good, they could have been between Pacino and De Niro. Two outstanding actors acting their hearts and souls out in this one-of-a-kind drama, playing two fathers, one who wants at all costs to protect his son, the other wanting both revenge for the son who died and protection for the one who has just been arrested for murder.
The Judge again shows himself adept and quick-witted when the situation calls for it. Why didn't you turn yourself in, Baxter asks the Judge. I was going to, I was at the police station, the Judge replies, and then I saw you. The best lies are the ones closest to the truth in these one-on-one situations, and the Judge was indeed in that police station, ready to bring in his son Adam.
I don't get Baxter's strategy in another scene, though, Why not give Big Mo her $150,000 back? Why say she has to eat it, and risk a war, right when he's trying to get his son Carlo out of justice's way, and get back to making the Judge pay? He doesn't want to appear weak, I know, but he's not as smart as any of the lead mobsters in the Godfather or Goodfellas.
Adam, however, is as sharp as his father. He doesn't believe the Judge's story. He wisely has not told him that he and Fia are falling in love, and you know that's going to have a decisive role in how this brilliant series ends. The Judge is a master strategist. He managed to get Sarah off the Carlo case by feeding her single malts in the bar. But he can't control everything, and it's still an open question of who will be left alive, who will be left out of prison, when this series concludes.
I'm very glad there are three more episodes.
See also Your Honor 1.1: Taut Set-Up ... Your Honor 1.2: "Today Is Yesterday" ... Your Honor 1.3: The Weak Link ... Your Honor 1.4: The Dinner ... Your Honor 1.5: The Vice Tightens ... Your Honor 1.6: Exquisite Chess Game