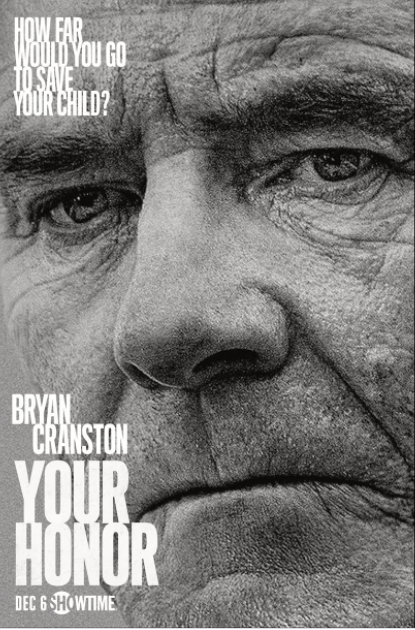 Your Honor 1.8 was a relatively quiet, highly cerebral episode, in which we see the judge struggle to preside over a fair trial for the brutal murder of Kobe by Carlo. His problem, as he states to a juror he's getting thrown off the jury, because she's a sure bet to convict Carlo, is nothing is more important than protecting his son Adam -- not conscience, not devotion to justice, not even plain decency. Although Jimmy Baxter thinks Judge Michael Desiato killed Rocco, Michael knows that it won't be long until Baxter realizes that Adam was behind the wheel. (Frankly, the best thing Michael can do to protect himself and Adam is to have Jimmy Baxter and his wife killed. Surely Michael knows that Jimmy will kill him even if Michael keeps Carlo out of prison.)
Meanwhile, Adam is falling so hard for Fia Baxter that he no longer wants to go to NYU, where he's just been admitted. This creates more potential problems for the judge. He wants his son out of of New Orleans, as far away from the Baxter family as possible. Fortunately, Adam's godfather Charlie is beginning to realize what's going on with Adam -- that there's a girlfriend involved -- which with any luck should help Adam and therefore Michael out of this part of the mess.
A word about the acting. I already said how superb Bryan Cranston and Michael Stuhlbarg are. The truth is that every single performance of every single actor is brilliant in this series. Episode 1.8 features Maura Tierney in the courtroom as prosecutor. What a performance! I haven't seen her since The Affair, and she is as reliably memorable in her role as ever.
Episode 1.8 was also the first episode that acknowledged COVID-19, unless I missed it in an earlier hour. But tonight saw some masks in the courtroom, and words about COVID from the bench. Interestingly, though, we also saw people crowded in restaurants with no masks. This corresponds to what we've seen in NBC's Chicago shows, and Law and Order in New York City. The inconsistency almost suggests that the COVID-aware scenes were put in after the main action was recorded at an earlier time.
But back to the plot of Your Honor: just two episodes left, in which anything can happen, and which I'm very much awaiting.