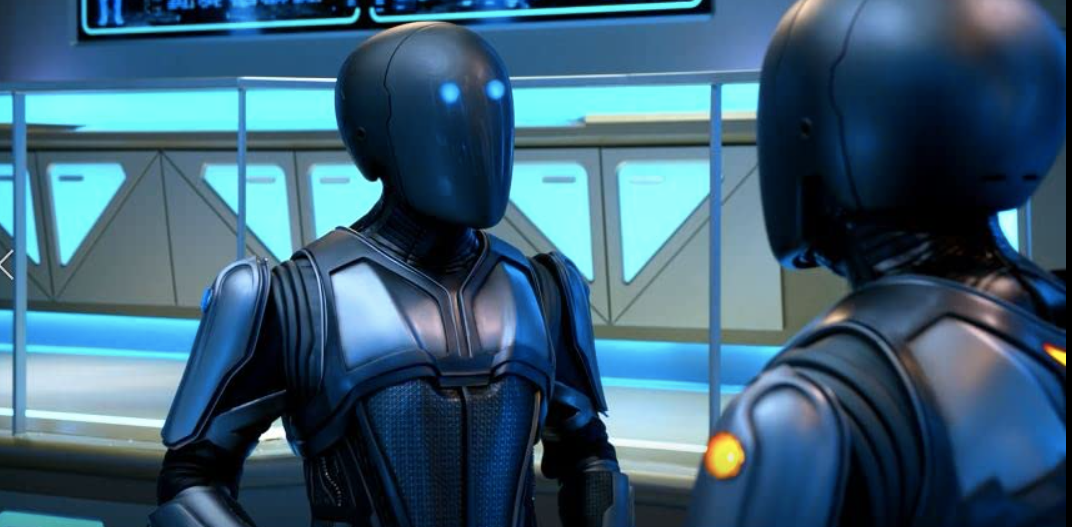 Well, we saw Isaac in simulated flesh in episode 3.6 of The Orville last week, and in this past Friday's episode 3.7 we get to see him love Claire.
[Spoilers ahead ... ]
Love and sex (and death, too) were actually everywhere in this episode. Claire and Isaac kiss. Lt. Commanders Lee and Keyali are in bed together several times, and the literally broken bones that Lee keeps getting from Keyali's passion make for one of the humorous interludes. Freud with his focus on libido and thanatos would have been happy to see all of it. I know I was.
We also get an important backstory about what led to the Kaylon attack on the Union. It was no fun being a robot slave to a sadistic species. Unfortunately, the Kaylon generalization that all biologicals were the same as the ones who tormented them was not entirely warranted.
Back to Isaac and Claire, I once again would have liked to have seen a different ending. Though letting Isaac keep his emotions and Claire so fulfilled in her love for him would have changed the dynamics on The Orville for sure, I think it would have been fun to see at least a few more episodes of that. Television series always seem to have a tendency to revert to their "bibles" -- the specs on the characters that writers need to abide by -- but sometimes it's better to tear out those pages and toss them in the metaphorical trash bin.
At least we get to see Charly finally come to terms with her understable fury with Isaac, which of course was bound to happen, but it will be good to see them working together in the future.
See also The Orville 3.1: Life and Death ... 3.2: "Come and Get Me ..." ... 3.3: What Do Bill Barr and Ed Mercer Have in Common? ... 3.4: The Captain's Daughter ... 3.5: Topa ... 3.6: Masterpiece of Time Travel with a Missed Opportunity
And see also The Orville 2.1: Relief and Romance ... The Orville 2.2: Porn Addiction and Planetary Disintegration ... The Orville 2.3: Alara ... The Orville 2.4: Billy Joel ... The Orville 2.5: Escape at Regor 2 ... The Orville 2.6: "Singin' in the Rain" ... The Orville 2.7: Love and Death ... The Orville 2.8: Recalling Čapek, Part 1 ... The Orville 2.9: Recalling Čapek, Part 2 ... The Orville: 2.10: Exploding Blood ... The Orville 2.11: Time Capsule, Space Station, and Harmony ... The Orville 2.12: Hello Dolly! ... The Orville 2.13: Time Travel! ... The Orville Season 2 Finale: Alternate History!

And see also The Orville 1.1-1.5: Star Trek's Back ... The Orville 1.6-9: Masterful ... The Orville 1.10: Bring in the Clowns ... The Orville 1.11: Eating Yaphit ... The Orville 1.12: Faith in Reason and the Prime Directive




Joel McKinnon and I discuss Star Trek, The Orville and much more