A real heart-in-your mouth
Lost
tonight, which I really enjoyed. First, I'll talk a little about tonight's show. And then, I'm going to give my predictions about what we'll see next week....
I just knew Charlie wasn't going to die. Would've been too obvious, with the build-up to that all season, and especially tonight. But it was a great Charlie show, anyway. Any time I can hear a few bars of "You All Everybody," I figure I'm coming out ahead. And the list that Charlie wrote of the greatest moments of his life, and tying that into the flashbacks, worked great tonight, too. More about flashbacks in a bit...
But I also figured that Desmond would try to dive down to the Looking Glass, and swap his life for Charlie's. Actually, if Desmond can really time travel, an earlier version of his self might have even been able to get to the Looking Glass, and save Desmond's future, heroic self from drowning....
But tonight's resolution worked just fine for me - and it will be fun to see just who those blonde underwater babes are - what their relationship is to Ben, Richard, and who knows what else on the island....
Which brings us to next week. I have no knowledge of anything that will be on next week's show, so consider the following just a theory:
I think we've seen the last of the flashbacks, or close to it. I predict some of our castaways will get off the island - certainly Claire and her baby - and others (like Charlie) will remain. And next year, rather than the flashbacks (which were getting a little boring, anyway), we'll see the adventures of the remaining castaways and The Others and who knows who else on the island, and the attempt of those off the island to save them. The off-island story, in the present, will replace the flashbacks*. Maybe next week we'll even see Michael, and find out what happened to him, off the island....
Should be a superb two-hour finale next week, even if my predictions don't pan out....
*I've already said that I think the inexplicable coincidences in the flashbacks hold the key to what's really happening in
Lost
- see my
Keys to What's Really Going On
. If I'm right about the flashbacks mostly ending, this means that we'll likely have a flashback or two in the remaining future seasons to explain the inexplicable flashbacks of the first three seasons...
Useful links
:
Listen to 5-minute podcast of this review - with me singing a little of
"
You All Everybody
"
- at
Levinson news clips
---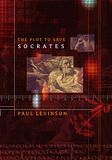 The Plot to Save Socrates
"challenging fun" - Entertainment Weekly

"a Da Vinci-esque thriller" - New York Daily News

"Sierra Waters is sexy as hell" - curled up with a good book