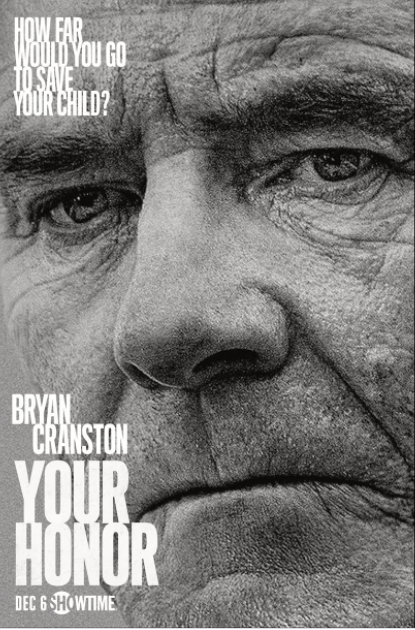 I just saw the finale of Your Honor: read no further if you don't know the ending of this marvelously well-acted series.
I'll start by saying I didn't like the ending -- not because it wasn't 100% well-motivated, and flowed from everything in the story, but, because, well, it was so unhappy,
Michael did everything he could to save his son. Most of it worked. He was willing to sacrifice himself to save Adam. But there were too many deadly pieces in play. It was impossible for Michael to account for all of them. He certainly could not have foreseen that Eugene, with no moves left after Michael did not let him testify, would put a bullet in Adam when Eugene shot at and missed Carlo, who had killed Eugene's brother Kofi and was getting away with it.
I guess the moral of this story is you can't control events with so many deceptions at play. Part of Adams's fate, though, was also sealed by his falling in love with Fia. That's why Adam was at the celebration. Jimmy already knew that Adam not Michael had hit-and-run killed Rocco. So even if Eugene was not at the hotel, Adam would likely have been killed.
Ironically, or just to add to the irony, Eugene would not have gotten into the hotel had not Jimmy's men not been distracted with keeping Michael out. And that's really a thumbnail of everything in this story; just about every lie Michael told ultimately worsened the situation for himself and Adam.
Back to the acting: this was a rare series in which every character was memorable. The lawyers, the Baxter family, each could have a spinoff series of their own. But most of all Bryan Cranston as Michael Desiasto aka Your Honor, who gave a tour de force (too weak a phrase) performance in this Shakespearean tragedy in New Orleans.
See also Your Honor 1.1: Taut Set-Up ... Your Honor 1.2: "Today Is Yesterday" ... Your Honor 1.3: The Weak Link ... Your Honor 1.4: The Dinner ... Your Honor 1.5: The Vice Tightens ... Your Honor 1.6: Exquisite Chess Game ...Your Honor 1.7: Cranston and Stuhlbarg Approaching Pacino and De Niro ... Your Honor 1.8: Nothing More Important ... Your Honor 1.9: Screeching Up to the Last Stop Before Next Week's Finale