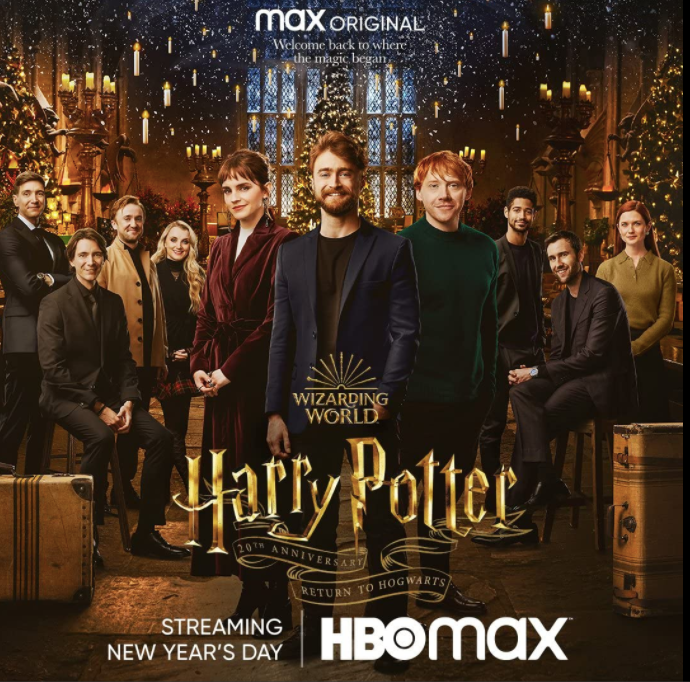 Checking in with a review of Harry Potter 20th Anniversary: Return to Hogwarts, just up on HBO Max. I loved it. Here's why:
I've always vastly preferred science fiction to fantasy, but you'd have to be insenseate to not immensely enjoy Lord of the Rings and Harry Potter. I'm also a father who happily drove a few blocks at the stroke of midnight to the Barnes & Noble to get a copy of whatever Harry Potter novel for my daughter Molly. The only other time I did anything like that in my life was rushing out to a Barnes and Noble to get s copy of Foundation's Edge, fourth novel in the best science fiction series ever written, as soon as I saw it had been published. (Jared Harris plays Foundation protagonist Hari Seldon in the TV series on Apple TV+, making it especially good to see his father Richard Harris again as Dumbledore in Return to Hogwarts.)
Molly also encouraged me -- everyone in the family -- to read all the Potter novels, which I did. She was a good influence. I not only devoured the novels at record binge-worthy speed, but I immediately began citing the Harry Potter phenomenon as powerful proof that literacy wasn't dying due to the Internet. I'm always happy to refute the glum prophets of doom that populate academe and the cultural world at large.
Now as to the reunion movie, it was just bursting with joy, energy, and tears, happy and sad. As Daniel Radcliffe, Emma Watson, and Rupert Grint were crystal clear about, they literally grew up making those movies (which I also saw with my family as soon as they were released). That experience not only changed Radcliffe, Watson, and Grint's lives. It made their lives. And these three actors and everyone in the documentary had a beacon of insight into how that happened. Return to Hogwarts could be the basis of a doctoral dissertation about children who become adults in the carnival of fame and work that spanned eight blockbuster movies and ten crucial years.
One of the ways that the making of these movies changed the lives of the actors and crew-- actually, the main way -- is that they increasingly became a family, and far more than in a metaphoric sense. I think my favorite part of Return to Hogwarts is near the end, when Grint blurts out to Watson, "I love you!". She's overwhelmed with emotion. Both are. And although Grint quickly clarifies that it's "as friends," we all can clearly see that it's more than that. It may not be romantic love -- who really knows -- but it's something deeper, more profound, more magical than the love we might feel for even a close friend.
Which pretty well sums up the way I feel about the Harry Potter novels and movies and their wonderful impact on our culture, and this now classic documentary.