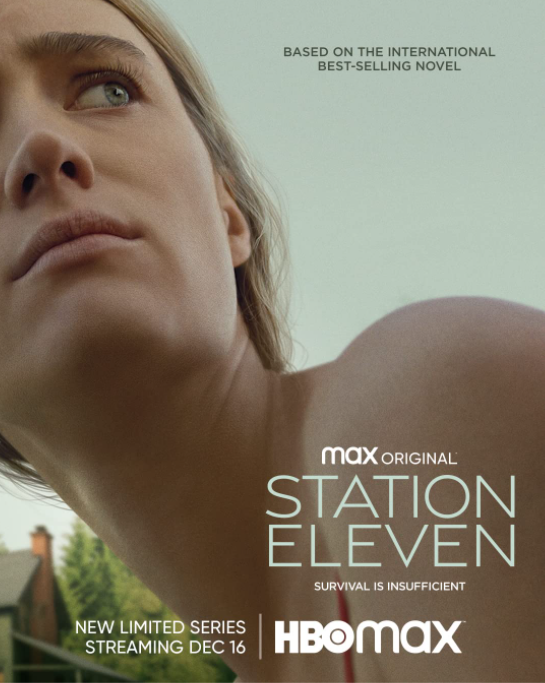 What a glorious, hopeful finale to the masterful television series known as Station Eleven. An ending so uplifting, in a story of humanity beset by a virus that kills 99% of the population, that it can serve as beacon of hope, a map to a better world, in our own world, also beset by a deadly virus, but far less lethal than the deadly flu in Station Eleven.
There were so many wonderful parts of this finale. Kirsten and Jeevan hugging near the end. If that wasn't satisfying to the soul on the deepest level, I don't know what is. Tyler aka the Prophet telling his mother to join him. Even the passing around of the book that is Station Eleven -- the illustrated book within the illustrious watercolor television series -- well, that was inspiring, too.
The performance of Hamlet was great, too, especially Tyler as Hamlet not stabbing Clark as Claudius with the knife. That knife, of course, hadn't done Tyler any real harm when Kirsten stabbed him with it, so maybe he knew that in some sense it just was a symbolic knife not a real cutting edge at all, except that it cut to the emotional core.
The music once again, in Hamlet and throughout the episode, was just superb. I've never heard a better performance of "Midnight Train to Georgia," even from Gladys Knight and the Pips. Georgia, the state that has become a symbol and a beacon, to use those words again, in our own democracy in our off-screen world.
Big plaudits to Dan Romer for the music. Accolades to the brilliant acting of Mackenzie Davis as Kirsten and Matilda Lawler as her younger self and Himesh Patel as Jeevan at all ages. In fact, every scene was boosted to admirable heights by the performances of everyone.
Station Eleven has redefined the presentation and staging of a post-apocalyptic story . It will take its place alongside of A Canticle for Leibowitz (I read the novel but haven't seen the adaption) as a standard-bearer of portraying humanity on and after the very brink. Kudos to Emily St. John Mandel for writing the novel (which I haven't yet read) on which the series is based and Patrick Somerville for bringing the series to life.
See also Station Eleven 1.1-3: "Looking Over the Damage" Well Worth Seeing ... Station Eleven 1.4-5: Shakespearean Prophet ... Station Eleven 1.6-7: Time, Blake, and Bosch ... Station Eleven 1.8-9: Before and After