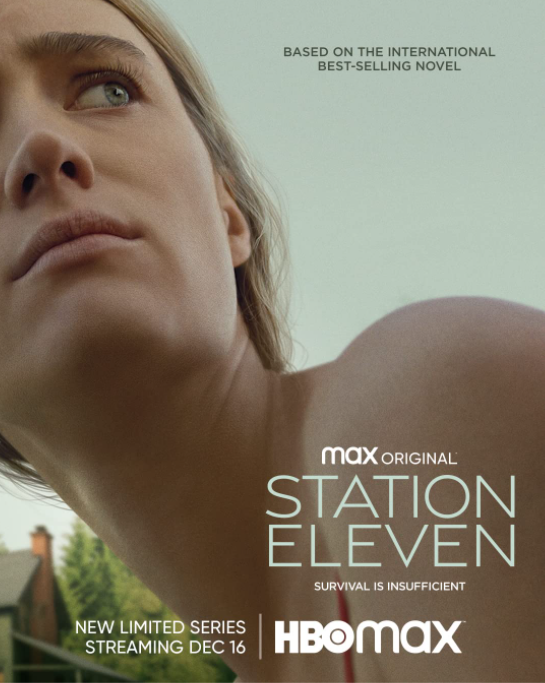 Station Eleven is such a deep and deeply nuanced story, it's going to be talked about and studied for years, even decades, to come. Just as episodes 1.8 and 1.9 coax us through these times and time spans. If this characterization seems a little more poetic than usual, it's because Station Eleven is itself pure poetry.
[Spoilers ahead, of course ... ]
It's 2040, according to the walls of the airport/museum. Elizabeth has white hair. Earlier, we see Kirsten, probably 20 years after 2040, or maybe longer, also with white hair. Time flies when you're having a good time, and apparently just as much or even more when you're not. That's a lot about the future. And though the Prophet aka Tyler tells Kirsten the past, the Before, does not exist or matter, his knowledge of the airport prompts Kirsten to comment to him, "I guess there is a Before". One of the charms of Kirsten is the time she takes with her rejoinders. That comes with being such an eagle-eyed observer of reality, such as it is. As for the Prophet, he later tells Kirsten that the Before is coming, and vows that he's not going to let that happen. That Before, by the way, is our off-screen world, the world we're living in right now.
When Kirsten gets to see Sarah, she tells Kirsten that "the play's the thing". It's more than that in this meta-Shakespearean post-apocalypse narrative. In Station Eleven, the play is life. Sarah, who may be dying from a heart attack, also tells Kirsten that she has to get better at saying goodbye.
Which brings us to the next episode, 1.9, in which Kirsten says a final goodbye to Jeevan (but we later learn that "goodbyes are better than death"), in a story literally pregnant with profundities, including the very experience of pregnancy. "There's a person inside me. I don't like strangers," one of the pregnant women tells Jeevan. And this episode -- an inspiring paean to life -- concludes with Jeevan having and raising a family with her, in the 20 years later that we've seen in the previous episode 1.8.
Earlier, Terry, a real but de-licensed doctor who runs the department store now a birthing center, says the essence of being a doctor is having "the courage to bear witness to death" -- keen truth, especially relevant in our own age of COVID. She's a font not only of wisdom but winning detail, telling Jeevan, with whom she left an oreo cookie that he ate (it did look good), that it's an example of "five centimeters" -- useful information for a de facto obstetrician, who is better identified by one of the women whose baby he helps deliver, as a healer.
And these episodes, especially, 1.9, are indeed healing. A wondrous and welcome thing to find in a story about the near end of the world.
They're also very satisfyingly connective. Tyler, older than a boy, younger than a man, makes an appearance at the birthing center, and offers another disparagement of the Before. Jeevan gives him a strange look.
So let's get to next week, and the final episode, number Ten, of Station Eleven.
See also Station Eleven 1.1-3: "Looking Over the Damage" Well Worth Seeing ... Station Eleven 1.4-5: Shakespearean Prophet ... Station Eleven 1.6-7: Time, Blake, and Bosch