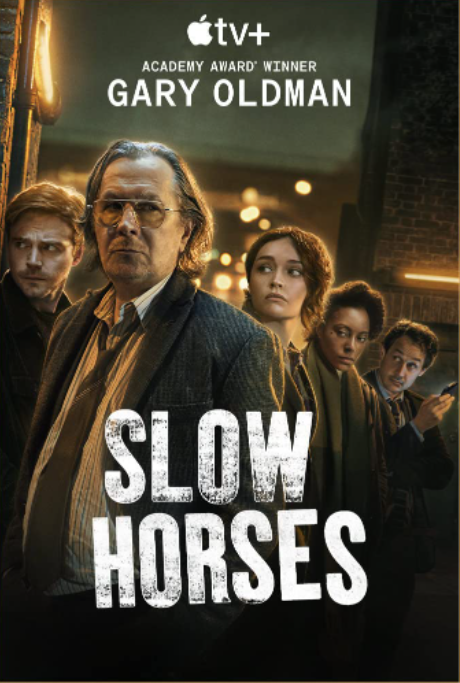 Hey, I caught the first two episodes of Slow Horses on Apple TV+, attracted to it by its name. I recall Arthur Shelby cautioning his brother Thomas about "fast women and slow horses" in Peaky Blinders, and my old song-writing partner Ed Fox (he wrote the music to my Looking for Sunsets in the Early Morning) writing a song called "Fast Women and Slow Horses" in the early 1970s.
Meanwhile, Slow Horses is a fast-moving no-holds-barred British spy thriller with a fresh outlook. River Cartwright (played by Jack Lowden) is a young gung-ho spy who is assigned to Slough House (aka the Slow Horse division) after he flubs a training exercise in a major way. Except, that might not have been his fault. Gary Oldman plays Jackson Lamb, who heads the division, and drinks, smokes, and suffers from flatulence. Olivia Cooke plays Sid, who--
[Ok, time for a spoilers warning ... ]
Well, Sid in the second episode tells River that she was put in Slough House to keep an eye on him. Shortly before she's shot in the head (I told you Slow Horses was fast moving). She is unconscious, but I'm really hoping she was grazed not actually shot in the head, because she's an appealing character.
The case at hand is a kidnapping by white supremacists of a young man that they think just got off the boat from Pakistan, even though he was born in England. Yes, the Brits have the same racist predators that plague us here in America, and I'm hoping River figures out a way to save this guy.
The dialogue is sharp, the London scenes suitably rainy, and I'll be along for the ride with reviews here every week.