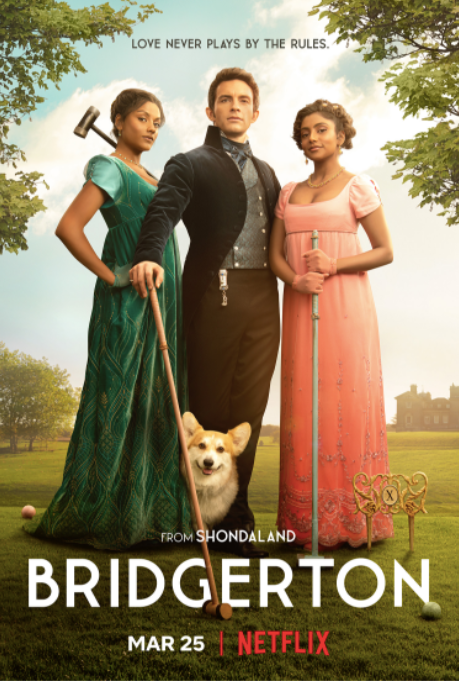 Bridgerton is a little off the beaten track of the science fiction/fantasy and detective/police fiction I usually review here, but as I pointed out in my review of the first season, Bridgerton is a kind of alternate history, and besides, it's superb television anyway.
Indeed, I liked the second season, up on Netflix for nearly a month now, and sitting atop the list of Netflix all-time most popular English-language series (i.e., greatest number of viewers) even more than the first. There was less explicit sex than in the first season, but the narrative was more profoundly moving, and the secondary stories were handled very well, especially the Whistledown, which is arguably the primary story, the one which will apparently run through every season.
The star crossed lovers who eventually get it right are Anthony and Kate. I almost always think in these kinds of stories that it takes too long for these true lovers to eventually get together. In this case, Kate's half-sister Edwina is what gets in the way. I think it took her far too long to see how deeply Anthony loved and longed for Kate, but Edwina's almost marriage to Anthony was a great scene, and her recovery -- the way Edwina began to set everyone straight, including the Queen herself -- was satisfying and good to see.
Indeed, Edwina's transformation from child-pawn to determiner and controller of events is one of the best elements of this season of Bridgerton, and exemplifies its fundamental tenet of women as the ultimate controllers of the events of men. The Whistledown narrative brings home this point in another way. It was good to see that story progress, concluding for now with at least two other people -- Delacroix and Eloise -- knowing Whistledown's true identity, even if Eloise never wants to talk to Penelope (Whistledown) again, which surely won't last.
Eloise and her printer proto-boyfriend could well be the centerpiece of the next season, and will likely have that role in some subsequent season in any case. Penelope isn't getting much joy from Colin, and it's difficult to say where that will go, in part because Colin's feelings for Penelope are unclear, maybe including even to himself.
The acting, as always, was excellent. Jonathan Bailey as Anthony and Simone Ashley as Kate were well up to their leading roles, and even Golda Rosheuvel as Queen Charlotte upped her game.
See you back here whenever Season 3 is on Netflix.
See also Bridgerton: Alternate Austen