First, my favorite scene in the next-to-last episode of
The Tudors
's first season: the testimony, at the very beginning of show, at the convocation to consider whether Katherine was a virgin - a "true maid," in Catherine's words (great phrase and great delivery) - when she married Henry. The "gentleman" who brought Henry's brother Arthur to Catherine's bedroom testifies about Arthur being "inserted" into her chamber, and exulting the next morning how had been in "the midst of Spain" the night before. And the crowd loves this, laughing uproariously at every sexual innuendo and double entendre. These folk weren't yet Shakespeare's Elizabetheans, but we can certainly see how they were their great grandparents, and I love the way
The Tudors
captures this vivid, lust-for-life, bawdy sense of these times.
But back in the main story line, the testimony doesn't win the day for Henry. Campeggio gets orders from the Pope to postpone the decision about whether Henry's marriage was valid, and Wolsey is ruined.
Once again, a sterling performance by Sam Neill in what should at very least nominate him for an Emmy. Whatever Wolsey may have been in history, Neill's rendition swings Wolsey from the heights of power to the pits of pathetic disgrace, and I couldn't help feeling sorry for him. In one of the best scenes in Episode 9, Campeggio and Wosley are summoned to see Henry, but no changing room is provided for Wolsey. "I need to change out of my riding clothes," he says plaintivelly to one of the squires. He's left in the cold, until a kindly priest lets Wolsey use his room. It was one of the most effective scenes in the series, and one of Neill's best deliveries.
Other fine scenes ... the death of Henry's sister Margaret and its impact on Charles ... and Henry asking Thomas More to be his Chancellor...
One more episode to go. It's clear now that the first season is only giving us the very beginning of
The Tudors
story. And that's good news for everyone who loves this series, including me...
Useful links
:
Derriere and Bosom on The Tudors: More of What the FCC Would Deprive Us Of
The King's Reformation: Henry VIII and the Remaking of the English Church
G. W. Bernard's 2005 book
The Soft Edge: A Natural History and Future of the Information Revolution
my 1998 book
The Tudors
Michael Hirst's brand new book!
my latest novel:
The Plot to Save Socrates
my reviews of other episodes of
The Tudors
: Episodes 1 and 2:
History So Colorful You Can Taste It
, Episode 3:
History So Real You Can Feel It
, Episode 4:
The Penalty of Royalty
, Episode 5:
Madrigal, Musical Chairs
, Episode 6:
Tectonic Chess
, Episode 7:
Henry's Imperfect Apothecary
, Episode 8:
The Limits of Power
, Episode 10:
A Suicide, A Burning, and a Roll in the Forest
---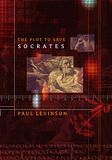 The Plot to Save Socrates
"challenging fun" - Entertainment Weekly

"a Da Vinci-esque thriller" - New York Daily News

"Sierra Waters is sexy as hell" - curled up with a good book