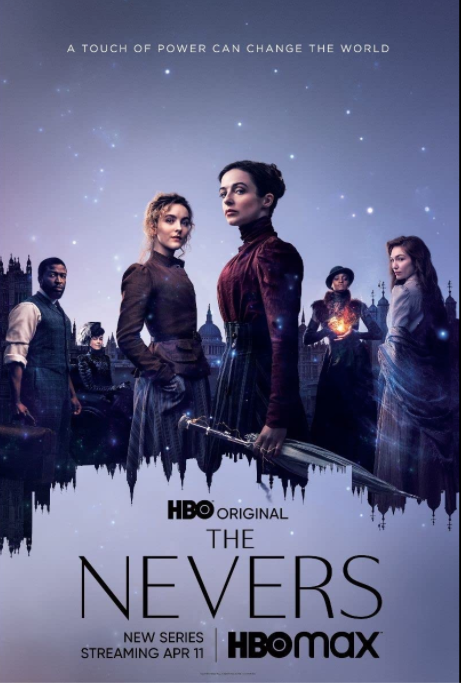 All kinds of good lines in last night's
The Nevers
1.5, but my favorite was Maladie's "mindful of the roses". Maybe because it reminded me of that great, haunting song by the Jaynetts (from the Bronx!) from a few months before the Beatles in America,
Sally Go 'Round the Roses
. That song not only transcends time, but has lyrics as recondite as the storyline of
The Nevers
.
Back to that, I'm against capital punishment, so I was very glad to see Maladie outwit the rope. I'd have felt the same way even if Maladie deserved it, but I don't think she does. At the same time, I would have been happy without anyone dying, but, then again, that would have been a different show. Detective Mundi figured it out. He's the smartest (presumably) untouched human.
The other significant element in this episode is the "galanthee" or however it's spelled. It sounds like galant but it's more than that, and I'm not even sure that it's galant. But it may explain the Touched -- how they came to be, why they're in London, who knows. That would be very welcome and a very big deal.
Amalia wanted to focus on the galanthee, and not rescue Maladie. That might have been wise but certainly not galant. Did Amalia know that Maladie had made the switch? Probably not. But you never know with these usually galant women. I was glad to see that a majority of them joined Penance not Amalia on whether to rescue Maladie. That was galant indeed.
Next week will be the final episode of Part I of this series. That's a big deal, too, since Joss Whedon won't be back for the second part, which apparently hasn't even started filming yet. That was due to the pandemic -- Whedon's leaving -- which, in a sense, looms over this series, even though it takes place in late Victorian times. There are two World Wars, and two pandemics ahead of that Victorian time. Would have been good had the Touched been real, and somehow been able to stop some of that future.
Speaking of the future, I'll see you here next week with my review of episode #6. I'll likely do a podcast after that with my reviews of all six episodes.
See also The Nevers 1.1: Never Say Never ... The Nevers 1.2: Song and Gun ... The Nevers 1.3: Mary's Melody ... The Nevers 1.4: Who Needs to Be Found?