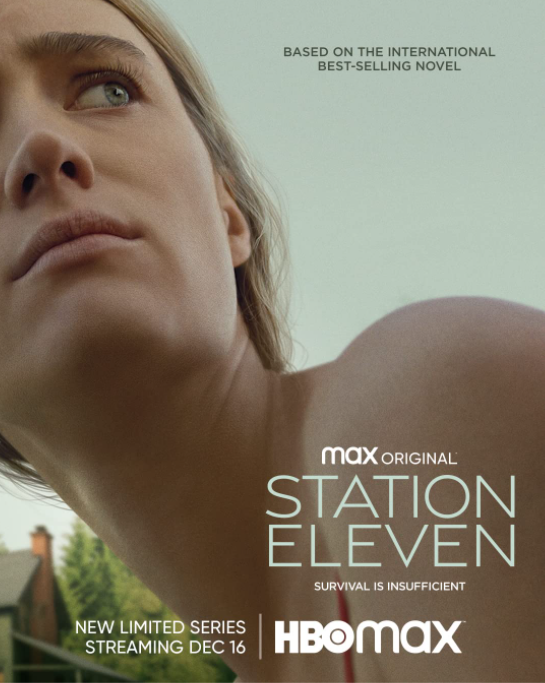 With Apple TV+'s run of superb science fiction -- Foundation, Invasion, and Finch -- temporarily on pause, it looks like HBO Max has picked up the slack with a powerful new series, Station Eleven, a new Matrix movie up next week, and the first half of Dune this past October.
The first three episodes of Station Eleven introduce us to a complex, perilous, beauty of a story. It's a story about the passion and agony of creating art, about bringing a story into being. And, oh yeah, it's a story about "the end of the world," due to a super-virulent (super-all-too-familiar) flu that kills over 99% of the population.
So, well, almost the end of the world (shows how we'll we've actually done in our real, off-screen world), and therein lies the heart of Station Eleven. A heart within a heart, a play within a play, because Station Eleven is not only the name of this series, it's the name of a book that Miranda (outstanding performance by Danielle Deadwyler), a major character in this series, wrote. (A much more appropriate meta than what Facebook says it's becoming, I would say.) And the book is no mere prop for a meta-title. It's something that "ruined my life," as said by Miranda and her husband.
The series unfolds in a mode first perfected in Lost: now, or close to now, when the extinction-level pandemic strikes, and twenty years into the future, when we see how a small group of survivors struggles and (at this point) perhaps triumphs in a way. When we're in the now, we see flashforwards (the plural of Rob Sawyer's excellent term); when we're in the future, we see flashbacks to the present. This makes the story a little difficult to follow, but it's worth that price. Station Eleven, in just three episodes, has already unfurled a rich, memorable tapestry of characters and humanity, as they "look over the damage," another one of the mantras of the series.
[Spoilers ahead ... ]
It's already left us with all kinds of questions. Why, exactly, did Kirsten (well played by Mackenzie Davis, with great facial expressions that in themselves tell the story) try to kill that guy (Prophet?) in episode 1.2? Because he said Kirsten and her troupe were "monsters"? I doubt it's because she has that thin a skin. Because he told Kristen that some of her friends would start to "disappear"? He didn't say he would make them disappear. There must be more to that stabbing, but that's good grist for the continuing narrative.
I'll also mention that this series -- based on the novel by Emily St. John Mandel that I haven't read -- is evocatively photographed and accompanied by outstanding music, including Dylan's "Don't Think Twice." I'm not going to think twice about continuing to watch this vivid series, and I'll be back here with reviews.
See also
Station Eleven 1.4-5 : Shakespearean Prophet
...
Station Eleven 1.6-7: Time, Blake, and Bosch