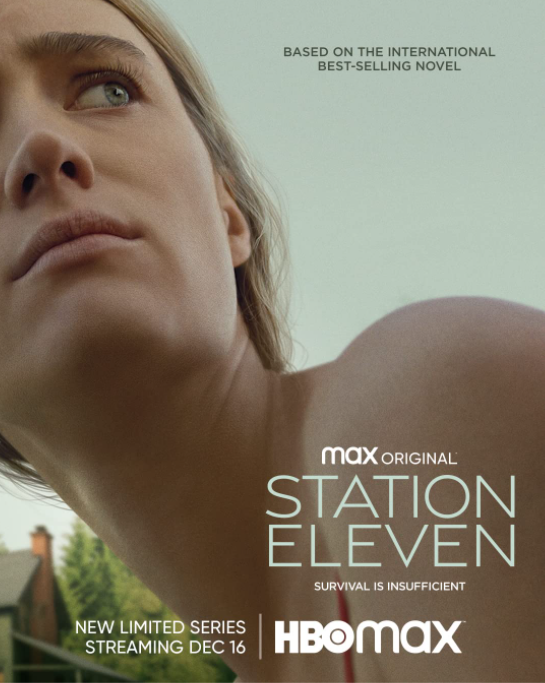 First, let me say in this review of Station Eleven 1.6 and 1.7, up on HBO Max today, that I thought episode 1.7 was the best so far in this superbly powerful series.
[Spoilers ahead ... ]
The vehicle of the adult Kirsten, poisoned by darts in the present, going back to Frank's apartment in Chicago to interact with her younger self, as she observes her younger self along with Frank and Jeevan, was brilliant and brilliantly executed. My single favorite of moment of that: Kirsten assuring her younger self not to worry, she'll see Frank again, because, the person who is saying that, the older Kirsten, is right there in Frank's apartment, was a perfect meta-gambit to make this point. A close second was discovering at the end that the adult Kirsten may have actually been there, in the physical apartment in the present, with Frank's dessicated corpse in the bed.
If truth be told, I've liked these earlier-set episodes, from the first episode through the airport last week to tonight's episode 7, a little more than the episodes that take place in the future (or the present, depending on how you look at it). Probably because the near future day-after-tomorrow story is just easier to relate to.
The troubadour future, though, has its tapestry and its moments. Episode 1.6 tonight felt like a new William Blake poem, wrapped in a Bosch painting (mostly the Dutch painter with a bit of the Amazon Prime series), with lots of choices for appropropriate music. (Back to 1.7: The rap song by Frank was off-the-charts great. Dan Romer gets credit for the music -- I have no idea if he wrote it or chose it. Either way, kudos!) If I could choose a song to add to that 1.6 tapestry, I think it would be "You Know My Name" by the Beatles. I can't exactly tell you why. Maybe because it's at once such a negation and triumph of a song.
And my favorite moment of 1.6 was learning that that airport was the Museum. That's a clever stroke, too. If you think about it, airports and museums have a lot in common.
At this point, although there is a lot of competition, I'm thinking Station Eleven is up there or down there with best post-apocalypse narratives I've seen on the screen.
See also Station Eleven 1.1-3: "Looking Over the Damage" Well Worth Seeing ... Station Eleven 1.4-5: Shakespearean Prophet