The first striking line in
Mad Men
4.2 is delivered by Allison, Don's secretary, as she walks into his office. "Good time, bad time?" she asks. Replies Don: "Yes."
This proves to prophetic for the big surprise of this episode. Don and a blond psychologist have a little chemistry on the job. Don - who comes home to his apartment drunk just about every night - would have been happy to have a romp with his cute next door neighbor, a nurse. She demurs. And this sets us up for a a scene Cole Porter would've enjoed, as the business Don gives is the business he gives his secretary. He's left his keys in the office, Allison (well played by Alexa Alemanni) comes by to give them to Don, and after he's settled in his apartment and she's just about to leave, he pulls her into his arms and more.
They both enjoy it - at this point, apparently she more than he. The next day at the office, she asks Don if he'd like her to close the door, after she comes in. But Don wants to play like it didn't happen - at least, for now.
Romance of sorts was in the air for least two other couples tonight. Peggy doesn't want to sleep with her boyfriend just yet, but she doesn't want to be alone on New Year's Eve. She winds up sleeping with him about a week before that, against Freddy's advice (yes, he's back - good!) (I'm assuming she didn't want to sleep with him in the first place because she doesn't want to get pregnant again, but with inscrutable Peggy you never quite know.)
And Sally has attracted the amorous attention of the boy next door - literally. In an effort to be her hero, he trashes her house, because she's told him that she hates the house and wants to move. Of course, if she does, then that would likely be the end his knowing her - but at that age, logic has little to do with bold actions.
Business-wise - the true business, non-Cole Porter type - the Lucky Strike exec is getting his kicks pushing Roger around. This occasions another good line, as Roger quotes his father about the business they're in being great - except for the clients.
This gets right at the irresistible essence of Mad Men - everyone in the organization loves the job, but hates a part of it, and struggles to keep that part from dominating their lives. For Don, that part is his own true background, which he continues to work to keep out of his life, or at least at bay. Last week it was the reporter who wanted a piece of that, tonight it was the blond shrink, as Don continues to just keep his head above water in this swirling game.
But he remains, whatever else happens, a good, loving father. I liked the way he added the Beatles (on 45 rpm!) to his Christmas present for Sally. And with the mention of the Beatles, Don and Mad Men have taken a big step into our current age. Hey, I was just watching and loving PBS's presentation of Paul McCartney at the White House (from this past June) last night! There is a continuity between the first time the Beatles were heard, right through to our very present, which makes all of that distinct from anything that happened before.
PS - The closing song with the original "I Saw Mommy Kissing Santa Claus" - I always liked the Ronettes' version better, from the Phil Spector Christmas album. Here's a
taste
.
See also
Mad Men 4.1: Chicken Kiev, Lethal Interview, Ham Fight
And from Season 3
:
Mad Men Back for 3
and
3.2: Carvel, Penn Station, and Diet Soda
and
3.3: Gibbon, Blackface, and Eliot
and
3.4: Caned Seats and a Multiple Choice about Sal's Patio Furniture
and
3.5: Admiral TV, MLK, and a Baby Boy
and
3.6: A Saving John Deere
and
3.7: Brutal Edges
...
August Flights in 3.8
...
Unlucky Strikes and To the Moon Don in 3.9
...
3.10: The Faintest Ink, The Strongest Television
...
Don's Day of Reckoning in Mad Men 3.11
...
Mad Men 3.12: The End of the World in Mad Men
...
Mad Men Season 3 Finale: The End of the World
And from Season Two:
Mad Men Returns with a Xerox and a Call Girl
...
2.2: The Advertising Devil and the Deep Blue Sea
...
2.3 Double-Barreled Power
...
2.4: Betty and Don's Son
...
2.5: Best Montage Since Hitchcock
...
2.6: Jackie, Marilyn, and Liberty Valance
...
2.7: Double Dons
...
2.8: Did Don Get What He Deserved?
...
2.9: Don and Roger
...
2.10: Between Ray Bradbury and Telstar
...
2.11: Welcome to the Hotel California
...
2.12 The Day the Earth Stood Still on Mad Men
...
2.13 Saving the Best for Last on Mad Men
And from Season One:
Mad Men Debuts on AMC: Cigarette Companies and Nixon
...
Mad Men 2: Smoke and Television
...
Mad Men 3: Hot 1960 Kiss
...
Mad Men 4 and 5: Double Mad Men
...
Mad Men 6: The Medium is the Message!
...
Mad Men 7: Revenge of the Mollusk
...
Mad Men 8: Weed, Twist, Hobo
...
Mad Man 9: Betty Grace Kelly
...
Mad men 10: Life, Death, and Politics
...
Mad Men 11: Heat!
...
Mad Men 12: Admirable Don
...
Mad 13: Double-Endings, Lascaux, and Holes
20-minute interview with Rich Sommer (Harry Crane) at
Light On Light Through
---
Special Discount Coupons
for
Angie's List, Avis, Budget Car, eHarmony, eMusic, Mozy, Zazzle
---
---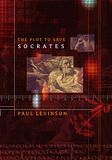 The Plot to Save Socrates
"challenging fun" - Entertainment Weekly

"a Da Vinci-esque thriller" - New York Daily News

"Sierra Waters is sexy as hell" - curled up with a good book
---
And check out Natasha Vargas-Cooper's new book ....