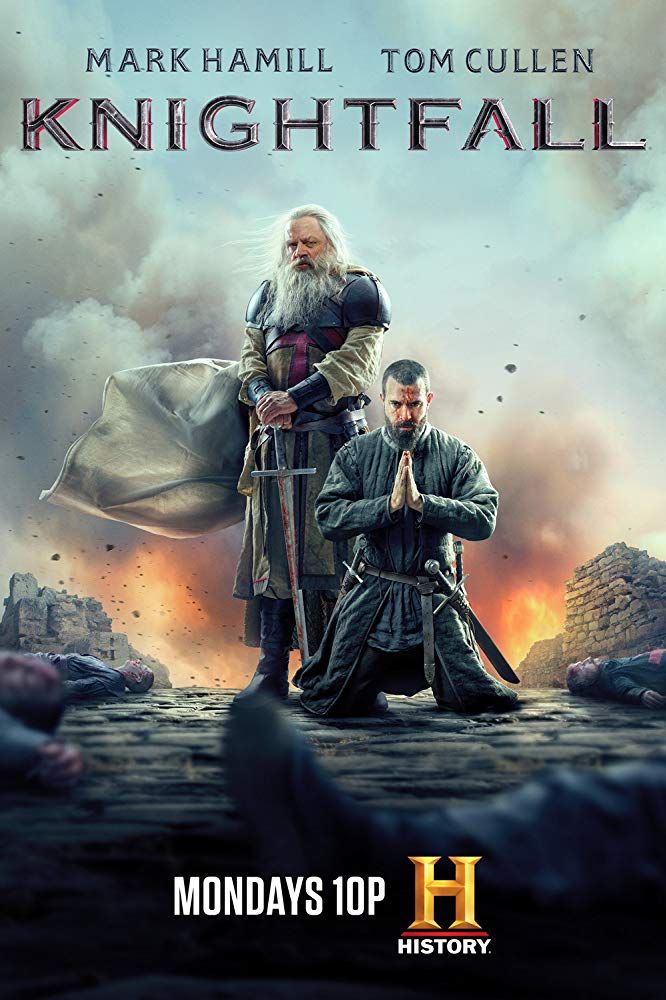 I haven't had a chance to review each episode of season 2 of
Knightfall
on the History Channel, but I've seen and much enjoyed all eight episodes. Herewith a review:
First, it's crucial to keep in mind that this series is about the fall - as per the title - and eventual eradication of the Knights Templar, so the arc is bound to be grim on balance. Indeed, the eradication is more imminent than eventual, so the Templars are always on the verge of extinction, with victories and survival itself always wrestled from the jaws of destruction, and always in danger of being undone.
On the side of the Templars this season we have Mark Hamill as Talas, who does just what he does in
Star Wars
as an aged Luke. His saving of the Templars from burning at the stake in the finale, with the help of the leper order that we saw earlier this season in one of its best episodes, was one of the best scenes of the series.
The general narrative, as it did last year, focuses on three knights in particular - Landry, Tancrede, and Gawain. The three characters are well drawn and well acted by Tom Cullen, Simon Merrells, and Pádraic Delaney. Their story arcs are well developed, too, with Tancrede finding love, Gawain pursuing revenge and then redemption, and Landry, as ever, being the leader even though he no longer formally has that post.
King Phillip of France is the prime opponent, amplifying his killing of his wife, the Queen, last season, because she was also Landry's lover, into an all-out drive to exterminate the Templars. To get this done, he kills the Pope, and gets a new one installed in the Holy See, more likely to support his vengeful quest. His son Prince Louis and his wife, as well as the Princess, play significant roles in the intrigue and (in Louis's case) the battles. The epic conflict of faith, decency, and good verses rapacious evil has inevitable parallels to our own time.
At this point, the series's renewal for a third season is uncertain, much like the future of the Templars themselves in the time period depicted. I'll just say that I really hope the series fares better than the Templars.
See also:
Knightfall 1.1: Possibilities
...
Knightfall 1.2: Grail and Tinder
...
Knightfall 1.3: Baby
...
Knightfall 1.4: Parentage
...
Knightfall 1.5: Shrewd De Nogaret
...
Knightfall 1.6: Turn of Fortunes
...
Knightfall 1.7: Landry's Mother
...
Knightfall 1.8: Crucial Moves
...
Knightfall 1.9: "More Than You Think"
...
Knightfall Season 1 Finale: Threading the Needle