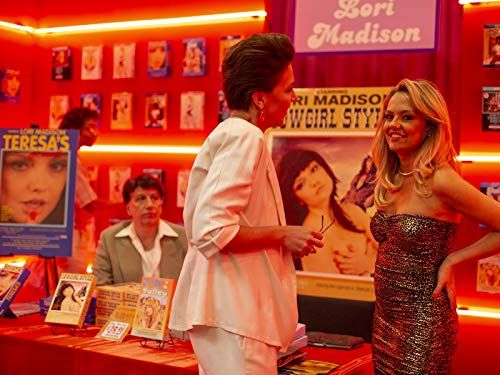 The Deuce
was back tonight with its final season on HBO with another step into the future, New Year's Eve 1985, that is, the last day and evening of 1984. The big villain, at this point, is AIDS. Bobby's afraid he has it (he likely doesn't, at least yet). Gene seems set up to get it. And a lot of people, including Abby on the East Coast and Lori on the West Coast, aren't feeling too well.
Well, Lori's just getting out of rehab, and she's soon on her way to going back, i.e., hooked on some other substance. Candy and Harvey seem physically ok, but they're at odds, as always, on the porn business they helped bring into being the previous decade. Harvey, always concerned about "the p and a," as he says (meaning, what? profits and ass?), wants Candy to be less arty, and she, of course, resists.
The New York City scenes, as always, are gritty and right. The LA scenes look right, too, but I wasn't out there in the mid-80s so I don't know from first-hand experience. The acting is outstanding. James Franco has aged his twin parts well. David Krumholtz, now pretty much the same weight as his character Harvey, is also totally believable in that part, And the same for Maggie Gyllenhaal as Candy.
I do miss Elvis Costello's opening music from Season 2, but otherwise I'm looking forward to seeing how our surviving characters fare in the brave new technological world of the mid-1980s. No early Macs or IBM pcs in sight, as yet, but I'm guessing we'll see some of those as this season progresses. Porn had not yet migrated to the Internet - that would be at least a decade away - but there was lots of book-keeping done on those early computer beasts, and book-keeping was always essential to mob and porn activities.
See you back here next week.
See also
The Deuce Is Back - Still Without Cellphones, and that's a Good Thing
...
The Deuce 2.2: Fairytales Can Come True
...
The Deuce 2.3: The Price
...
The Deuce 2.4: The Ad-Lib
...
The Deuce 2.6: "Bad Bad Larry Brown"
...
The Deuce 2.9: Armand, Southern Accents, and an Ending
...
The Deuce Season 2 Finale: The Video Revolution
And see also
The Deuce: NYC 1971 By Way of The Wire
and "Working with Marshall McLuhan" ... Marilyn Monroe on the Deuce 1.7 ... The Deuce Season 1 Finale: Hitchcock and Truffaut
It all starts in the hot summer of 1960, when Marilyn walks off the set
of
The Misfits
and begins to hear a haunting song in her head,
"Goodbye Norma Jean" ..

my story "The P & A" in this issue