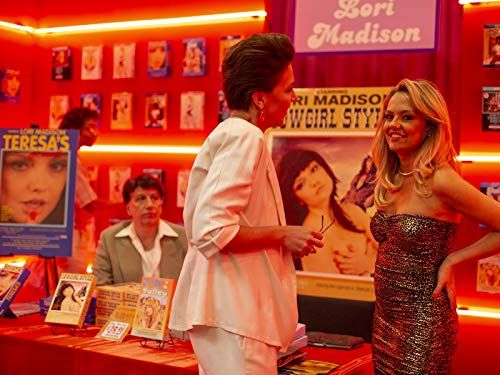 Abby easily had the best line in tonight's episode 3.2 of
The Deuce
, when she explains that if you don't use the First Amendment to protect porn movies, "it's not gonna be there for the ideas". The geniuses on the Supreme Court didn't get this in 1915, when they decreed in Mutual Film v. Ohio that film was not protected by the First Amendment, since it was a form of entertainment not an expression of ideas. It wasn't until Burstyn v. Wilson in 1952 that this was overturned. Good to see that Abby got the full gist of this in 1985.
Otherwise, almost no one, including Abby, is very happy in tonight's episode. Abby loses her friend. Lori in California objects to a stalk of corn being used in her porn scene. Neither Vincent nor Frankie are too thrilled in their separate proceedings, though they do give us a good scene together face-to-face, nice trick photography.
But there is more good news on the fringes. Looks like Candy may be on the way to finding true love or at least pretty good love with Corey Stoll's character Hank. And Bobby doesn't have AIDS. All of which says there's room for at least some happy endings on
The Deuce
.
Given that this its final season, whatever endings we get this year will be the final words on the series. I'm hoping that, at very least, both twin brothers are thriving, as are Candy and Lori. But I'm an optimist, and
The Deuce
has always been about unvarnished not rose-colored reality. You know what, I still hope those characters and even a few others survive.
See also
The Deuce 3.1: 1985
And see also
The Deuce Is Back - Still Without Cellphones, and that's a Good Thing
...
The Deuce 2.2: Fairytales Can Come True
...
The Deuce 2.3: The Price
...
The Deuce 2.4: The Ad-Lib
...
The Deuce 2.6: "Bad Bad Larry Brown"
...
The Deuce 2.9: Armand, Southern Accents, and an Ending
...
The Deuce Season 2 Finale: The Video Revolution
And see also
The Deuce: NYC 1971 By Way of The Wire
and "Working with Marshall McLuhan" ... Marilyn Monroe on the Deuce 1.7 ... The Deuce Season 1 Finale: Hitchcock and Truffaut
It all starts in the hot summer of 1960, when Marilyn walks off the set
of
The Misfits
and begins to hear a haunting song in her head,
"Goodbye Norma Jean" ..