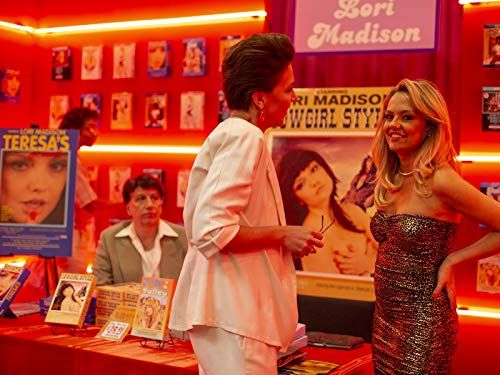 A good episode 3.3 of
The Deuce
on Monday, with Candy and Hank being the best part of the story.
I especially liked the way Candy made Hank promise he wouldn't keep offering her money for her movies. He was ready to put in $150,000, which Candy said would enable her to make her next movie in style. But love, for her, is more important than money. And even though Hank made clear that he could easily afford to provide that kind of financial support, Candy not only said no, but told Hank she never wanted to hear that again.
Why? This gets to the essence of who Candy is, and indeed the essence of the series. She is a former prostitute - she sold her body. And it's not that she thinks what she did was immoral. But she's more than happy to have moved from prostitution to porn. And she values love. And the receipt of any kind of money from any man that she's starting to love is anathema to her. Because that money, however well-meaning, dilutes and even contradicts the love that Hank is professing, and Candy is feeling and loving herself, and is beginning to reciprocate. So she says no to the money, to protect her love.
That scene was a nice piece of work. Also good, as always, is Lori struggling to make her way as a porn actress in L.A. As she rightly says, when she demands that her male acting partner use a condom, it's her body. That was always true but especially significant in this age when AIDS has entered the scene. And her relationship with her agent is also noteworthy. Lori has traded her pimp for her agent. As anyone who has ever had an agent for any reason in the creative arts knows all too well, the two have a lot in common. But they're not completely the same. And it was interesting and instructive to see Lori's agent try to do her bidding, to the extent that she can.
See you here next week.
See also
The Deuce 3.1: 1985
...
The Deuce 3.2: The First Amendment!
And see also
The Deuce Is Back - Still Without Cellphones, and that's a Good Thing
...
The Deuce 2.2: Fairytales Can Come True
...
The Deuce 2.3: The Price
...
The Deuce 2.4: The Ad-Lib
...
The Deuce 2.6: "Bad Bad Larry Brown"
...
The Deuce 2.9: Armand, Southern Accents, and an Ending
...
The Deuce Season 2 Finale: The Video Revolution
And see also
The Deuce: NYC 1971 By Way of The Wire
and "Working with Marshall McLuhan" ... Marilyn Monroe on the Deuce 1.7 ... The Deuce Season 1 Finale: Hitchcock and Truffaut
It all starts in the hot summer of 1960, when Marilyn walks off the set
of
The Misfits
and begins to hear a haunting song in her head,
"Goodbye Norma Jean" ...