"And the rest is silence" - the famous, many-sided ambiguous last line of
Hamlet
.
The "rest" could mean respite, sleep, or remainder. The "silence" could mean quiet or death. Is the remainder - what comes after the story of Hamlet - just a time-out, or a death of everything we have seen? When Horatio says this about the bodies he finds on the floor - which we presumably know are dead - what is he telling us about what happens after?
As I was reading
Dick Cavett
's excellent piece written before The Sopranos' finale, I realized that, in addition to
The Lady, or the Tiger
echoes,
The Sopranos
also partakes of
Hamlet
.
I'm sure I'm not the first person to make that connection - just as I was not the only person to call forth
The Lady, or The Tiger
- but I thought it useful to record it here.
"And the rest is silence" has been praised by I. A. Richards and other literary critics as the ideal ambiguous ending. Like
The Lady or the Tiger
, it is a triumph of written language.
In the case of
The Sopranos
, the "rest" was not just silent, but sudden black. And it was shocking - in a way that the last words of
Hamlet
were not - because it spoke in image rather than words, and defied our expectations of how a television show, let alone a series, should end.
I'm more sure - less ambiguous - than ever that
The Sopranos
as a whole and its ending in particular will take its place next to Shakespeare.
5-min podcast of this analysis of Sopranos ending
Further reading
:
The Sopranos and the Closure-Junkies
The Sopranos, or the Tiger?
The Sopranos Ninth of Nine: The Anti-Ending Ending
The Sopranos as a Nuts-and-Bolts Triumph of Non-Network TV
my 2002 article
I. A. Richards'
Practical Criticism
also -

Sopranos Symposium at Fordham University, May 22-25, 2008: Final Program
The Sopranos Podcasts
- listen to reviews and analyses to your heart's content
or just listen to the podcast of this review, right here...
And ...
A Conversation with Dominic Chianese
... complete video and transcript
---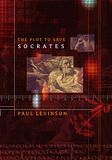 The Plot to Save Socrates
"challenging fun" - Entertainment Weekly

"a Da Vinci-esque thriller" - New York Daily News

"Sierra Waters is sexy as hell" - curled up with a good book
---
Enjoy listening to audio books? Get a free audio book copy of The Plot to Save Socrates - or any one of 85,000 other titles - with a 14-day trial membership at Audible.com ...