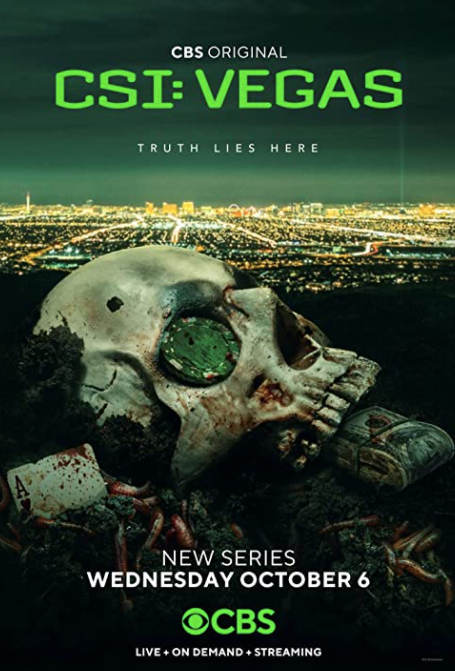 My wife and I saw and enjoyed most of CSI and a smattering of the myriad spinoffs, so we figured we'd watch the CSI reboot -- now CSI: Las Vegas -- which debuted tonight on CBS. It was good. Much like original.
Here's the set-up: someone tries to kill a retired and partially blind Jim Brass. He's played by Paul Guilfoyle, whom I saw not too long ago as The Guardian of Forever (yes!) on Star Trek: Discovery. I last saw him in the CSI 2015 series finale in the hospital, recovering from a bomb blast. Good to see him and his character again.
Sara Sidle (Jorja Fox) is also back in Vegas, called in by Brass to help with this case. Gil Grissom (William Peterson), whom Sara ran off to join on a boat and a lifetime relationship in the original series finale, is also back in town, as we see at the very end of this first new episode, which is part 1 of a two-part or longer story. Also at work on this case is the current CSI head Maxine Roby (Paula Newsome, last seen by me in Chicago Med) and Joshua Folsom (Matt Lauria from Friday Night Lights).
So the cast looks good (but one suggestion: bring back Nike Stokes/George Eads), as do the lights in Las Vegas and the gleaming new equipment in the lab. And the plot has promise. David Hodges (Wallace Langham), a major character in the original CSI, in umpteen episodes from 2003-2015, is being framed to look like he forged the evidence in God knows how many cases in which he played a pivotal role. Sara and Gil are of course convinced of his innocence. Maxine and the newbies of course are not so sure. And what's at stake are countless convictions in those very 2003-2015 span of years -- in other words, the very status of CSI itself.
I'd say that's a pretty significant set-up for the new series, more than enough to keep me watching.