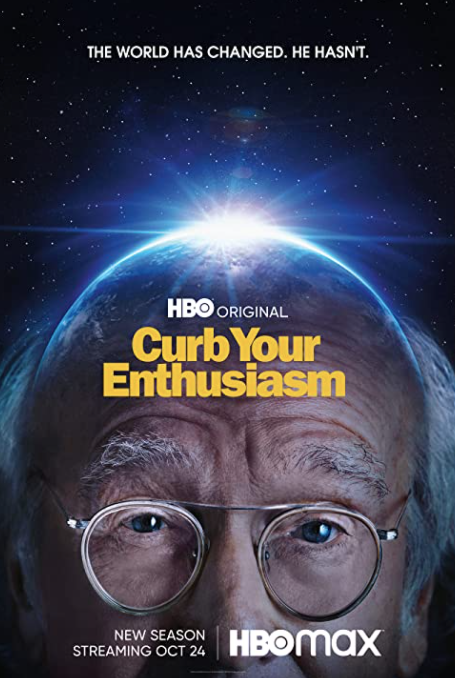 Curb Your Enthusiasm was back on HBO for the debut of its 11th season tonight, pretty to very funny, not the funniest of this show which can have you laughing out loud for most of its 30 minutes, but enjoyable and fun to see nonetheless.
As usual, Larry gets caught up in a variety of situations in which his grievances are justified but in apparent defiance or ignorance of social norms, for which Larry gets grief himself, but stubbornly doesn't relent. Someone with declining mental abilities owes Larry $6000, overdue six months, and Larry thinks it's time to call in the debt. Everyone else including slight acquaintances and especially Susie think Larry is horribly wrong to ask the guy for the money.
Speaking of Susie, she obviously plops down on a white couch, causing Larry to spill his red wine all over it, and no one wants to support Larry's insistence that it wasn't his fault -- including Jeff, who agrees with Larry privately but won't go against his wife. Actually that was very funny, I'm beginning to think maybe I was too harsh in the first paragraph. I hope Larry gets this far if he reads this review.
The two funniest interludes in the episode were (1) Larry being forced to cast a young woman clearly not right for the part of Marsha in the "Young Larry David" sitcom Larry and Jeff manage to sell to Netflix. He did this because the young woman's uncle drowned in Larry's pool, unprotected by the fence called for in the local ordinances. (My guess is she'll turn out to do a great job in the part.) And (2) the pre-funeral, or whatever it's called that Albert Brooks puts together for himself, and gets Larry embroiled in. Jon Hamm shows up and wants to express that's he's "bashert" about the faux death, or maybe express his condolences that Brooks' family and friends have "bashert", and Larry correctly tells him that "bashert" is not the right word for that, because it means "fate". Hamm asks what is the right word, then. And Larry says "tsuris".
Well, not quite. "Tsuris" means "trouble" or "troubles" in Yiddish, but I'd say it's too weak a word to pertain to the death of a loved one. What would be the right word then? I don't know.
But, ok, I was wrong about the episode not being hilarious enough -- in the immortal words of Jerry Orbach's character in Dirty Dancing, "when I'm wrong, I say I'm wrong" -- and it's bashert that I'll be back with at least one or two more reviews of this season's episodes.
See also: Curb Your Enthusiasm 10.1: Reunited! ... Curb Your Enthusiasm 10.3: Garbage Cans and Apples ... Curb Your Enthusiasm 10.8: Meets Mad Men ... Curb Your Enthusiasm 10.9: Science Fiction ... Curb Your Enthusiasm Season 10 Finale: Unjust Desserts

See also: Curb Your Enthusiasm 9.1: Hilarious! ... Curb Your Enthusiasm 9.2: Wife Swapping ... Curb Your Enthusiasm 9.3: Benefits ... Curb Your Enthusiasm 9.4: "Hold You in his Armchair" ... Curb Your Enthusiasm 9.5: Schmata At Large ... Curb Your Enthusiasm 9.8: The Unexpected Advocate ... Curb Your Enthusiasm 9.9: Salmon Discretion ... Curb Your Enthusiasm 9.10: Outfit Tracker