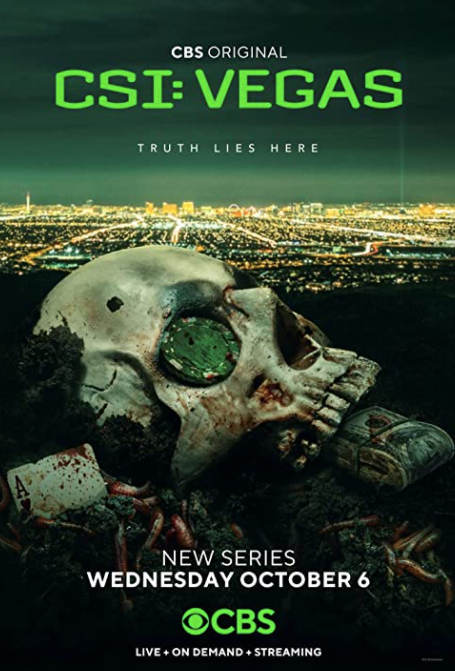 A fun CSI: Vegas 1.4 last night, as Sara and Gil make progress in their effort to exonerate David Hodges, accused of forging of evidence in some 8,000 cases, which if true would make the continuance of CSI in anything resembling its current form plainly impossible.
Their prime adversary is Nora Cross, a tough, articulate, intelligent Internal Affairs Detective. She's apparently totally convinced that Hodges forged the evidence, and happy to pressure Gil, Sara, and current CSI head Maxine Roby to get their support. Which doesn't quite make sense because surely Cross realizes that Hodges being guilty could bury CSI, so why would its prime movers Sara and Gil possibly join her in her quest to get Hodges? Even Roby, who doesn't know Hodges and wasn't there when Hodges allegedly did his nefarious work, is doing what she can to help in his defense and find the person who framed him.
Gil takes a big step forward identifying that framer. He does that by lying to Nora, and acceding to her request that she join in the persecution/prosecution of Hodges, which raises another question: why does she believe him? She clearly knows how much damage it would to the history and future of CSI were Hodges guilty.
The truth is that that kind of logic and reasoning was never CSI's strong suit. Evidence -- Gil's Holy Grail -- was and continues to be the very basis of CSI. So the good news, the takeaway of episode 1.4, is that Gil on the basis of the files he gets from Nora by lying to her gives Gil what he need to identify the guy who framed Hodges.
That's real progress. And even if the logic in getting there is little murky, seeing it unfold is still fun.
See also: CSI: Vegas 1.1: CSI on Trial ... CSI: Vegas 1.2: My Half-Joking Suggestion for the Villain ... CSI: Vegas 3.3: Three Especially Enjoyable Facets