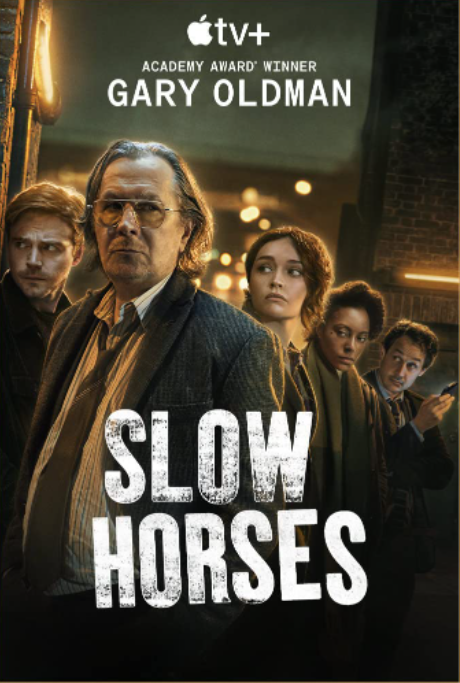 Slow Horses is back (I keep wanting to say "are back") on Apple TV+ with the first two episodes of its second (short) season.
The repartee is better than ever, with Cartwright chiding Lamb for eating his ramon like a "dying horse," whatever exactly that means. He looked ok to me, and I was glad we at least didn't get another demonstration of his flatulence (sorry, was that a spoiler?),
[Anyway, there may be spoilers ahead ... ]
Sid was still gone, but we did get Shirley Dander (Aimee-Ffion Edwards), who may be Sid's replacement? Plotwise, all four of the investigative horses -- Lamb, Cartwright, Guy, and Harper -- are in top form, better than in the first season, in fact. They seem closer to succeeding than earlier this year, making a lot of progress on the case at hand.
That case is pretty good, too. Phil Davis puts in a good few minutes at the beginning of the first episode as the ill-fated former spy Dickie Bets who dies of an induced heart attack on a bus. (The London ambience is gritty and effective.) Good to see him (Phil) back on the screen. The Russkies as either bad guys, pawns in a bigger game, or both, do a convincing job, though their role as likely villains is so well worn it's almost funny-- Wait, maybe that's the point?
Mick Jagger singing a little at the beginning and more at the end if very welcome again, and never gets out of date. Speaking of which, however: I caught a mention of "Her Majesty" in the first episode, which dates this second season. I would have gone in and overdubbed a "His Majesty," but, hey, what do I know, I'm an American.
See also Slow Horses 1.1-2: Fast-Moving Spy Thriller ... Slow Horses 1.3: The Fine Art of Bumbling ... Slow Horses 1.4: Fine New Song by Mick Jagger ... Slow Horses 1.5: Did You Hear the One About the ... Slow Horses 1.6: The Scorecard