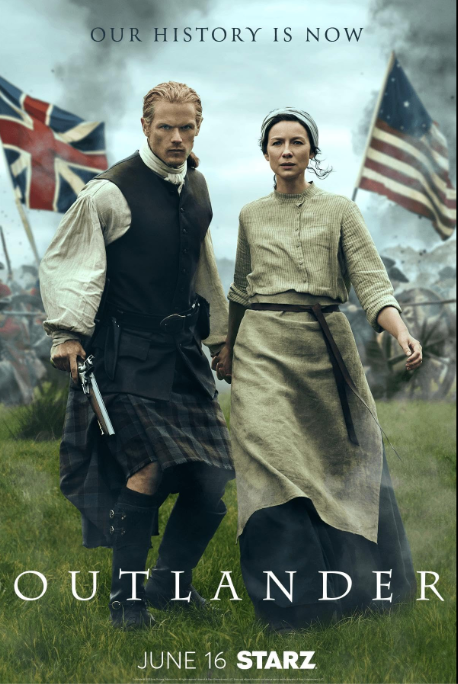 Outlander is back for its seventh and next-to-final season, with two superb and very different kinds of episodes, 7.1 and 7.2, on Starz last week and this.
[And big spoilers ahead ... ]
Episode 7.1 was a rip-roaring adventure, as Jamie does all in his power to save Claire, but she's saved by good old Tom Christie, who makes the ultimate sacrifice to go the gallows instead of Claire. It was great to see Jamie back in action, and though I'll miss Tom as a strong character, that was certainly a noble way to go.
Episode 7.2 was something else entirely, so sad I almost couldn't write this. Brianna and Roger's decision to go back to the 20th century to save their new baby was 100% logical, but I don't think there was any other episode in all of Outlander quite so worthy of tears, borne of Jamie and Claire thinking they may never see their daughter again, and she thinking the same about them. Optimist that I am (I haven't read the books), I'd bet that they would, but it's still something to see the pain all three were going through, and hats to Sam Heughan, Caitríona Balfe, and Sophie Skelton for their really fine acting. And while I'm at it, here's a shout out to Andrew and Matthew Adair for playing an excellent little Jemmy.
The story will take on -- or take on again -- an exciting multiple dimension, as we see the family, now expanded, split again between two times -- spanning two hundred years, as Claire correctly says. There are all kinds of possibilities here, and I'm glad I have no idea how they'll play out. But based on these two two top-notch episodes of this penultimate season, I'm confident we'll be in for a breathtaking, heartbreaking, heart warming story.
See also Outlander 6.1: Ether That Won't Put You to Sleep
And see also Outlander 5.1: Father of the Bride ... Outlander 5.2: Antibiotics and Time Travel ... Outlander 5.3: Misery ... Outlander 5.4: Accidental Information and the Future ... Outlander 5.5: Lessons in Penicillin and Locusts ... Outlander 5.6: Locusts, Jocasta, and Bonnet ... Outlander 5.7: The Paradoxical Spark ... Outlander 5.8: Breaking Out of the Silence ... Outlander 5.9: Buffalo, Snake, Tooth ... Outlander 5.10: Finally! ... Outlander 5.11: The Ballpoint Pen ... Outlander Season 5 Finale: The Cost of Stolen Time

And see also Outlander 4.1: The American Dream ... Outlander 4.2: Slavery ...Outlander 4.3: The Silver Filling ... Outlander 4.4: Bears and Worse and the Remedy ... Outlander 4.5: Chickens Coming Home to Roost ... Outlander 4.6: Jamie's Son ... Outlander 4.7: Brianna's Journey and Daddy ... Outlander 4.8: Ecstasy and Agony ... Outlander 4.9: Reunions ... Outlander 4.10: American Stone ... Outlander 4.11: Meets Pride and Prejudice ... Outlander 4.12: "Through Time and Space" ... Outlander Season 4 Finale: Fair Trade

And see also Outlander Season 3 Debut: A Tale of Two Times and Places ...Outlander 3.2: Whole Lot of Loving, But ... Outlander 3.3: Free and Sad ... Outlander 3.4: Love Me Tender and Dylan ... Outlander 3.5: The 1960s and the Past ... Outlander 3.6: Reunion ... Outlander 3.7: The Other Wife ... Outlander 3.8: Pirates! ... Outlander 3.9: The Seas ...Outlander 3.10: Typhoid Story ... Outlander 3.11: Claire Crusoe ...Outlander 3.12: Geillis and Benjamin Button ... Outlander 3.13: Triple Ending

And see also Outlander 2.1: Split Hour ... Outlander 2.2: The King and the Forest ... Outlander 2.3: Mother and Dr. Dog ... Outlander 2.5: The Unappreciated Paradox ... Outlander 2.6: The Duel and the Offspring ...Outlander 2.7: Further into the Future ... Outlander 2.8: The Conversation ... Outlander 2.9: Flashbacks of the Future ... Outlander 2.10: One True Prediction and Counting ... Outlander 2.11: London Not Falling ... Outlander 2.12: Stubborn Fate and Scotland On and Off Screen ... Outlander Season 2 Finale: Decades

And see also Outlander 1.1-3: The Hope of Time Travel ... Outlander 1.6: Outstanding ... Outlander 1.7: Tender Intertemporal Polygamy ...Outlander 1.8: The Other Side ... Outlander 1.9: Spanking Good ... Outlander 1.10: A Glimmer of Paradox ... Outlander 1.11: Vaccination and Time Travel ... Outlander 1.12: Black Jack's Progeny ...Outlander 1.13: Mother's Day ... Outlander 1.14: All That Jazz ... Outlander Season 1 Finale: Let's Change History