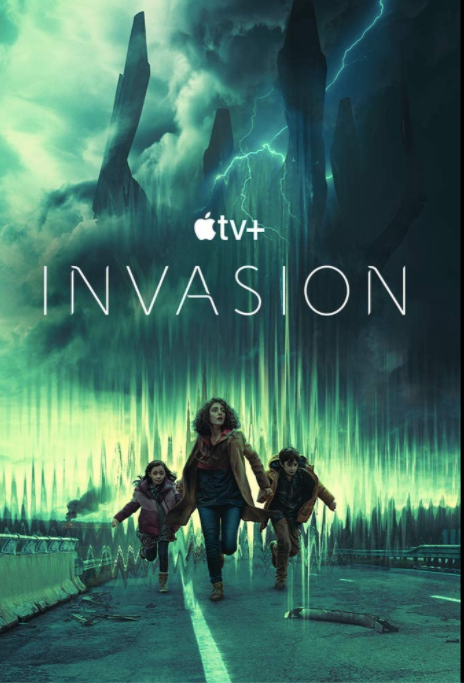 Well, I'm beginning to feel like I'm handing out "best episodes of the season so far" like bouquets at the end of this week, but they're well deserved. I said yesterday that
Foundation 1.9
was best of the season so far -- actually, tied with Foundation 1.7 at that spot, in my opinion -- and tonight I'll say that about
Invasion
1.6. In fact, I'd say it easily is the single best episode of the season so far.
Why?
First of all, it's an episode devoted completely to one family's storyline -- an approach Foundation could stand to use, once in a while, come to think of it -- and the story about the Maliks in New York was 30+ minutes of sheer adrenalin.
The beginning sees Aneesha struggling to get back to that house with that couple that I was suspicious of, and I was sorta of right about them. They're not in league with the interstellar invaders, just insanely afraid of them, but of course it's not insane to be afraid of them. But the woman wants the Maliks out of her house because they're too noisy, and the husband is a little too quick to point his rife.
[Spoilers follow ... ]
And then things really get rough. It looks like Ahmed might have been killed by an invader, but he staggers out of the house in the end. The important thing, as far as the overall series is concerned, is that we get a pretty close look at the tentacled monsters that are attacking us. That part was nothing we haven't seen before in countless interstellar invasion movies and TV series, but at least we got a close look at them in action.
As I said in a previous review, we still don't know if these murderous creatures are the intelligent beings that traveled through space, or in effect a living weapon being wielded against Earth by the beings from outer space that traveled here. Four more episodes to find out at least more about that, as well as how our people are doing in the other three theaters of focus, and I'll be back with reviews of that all.