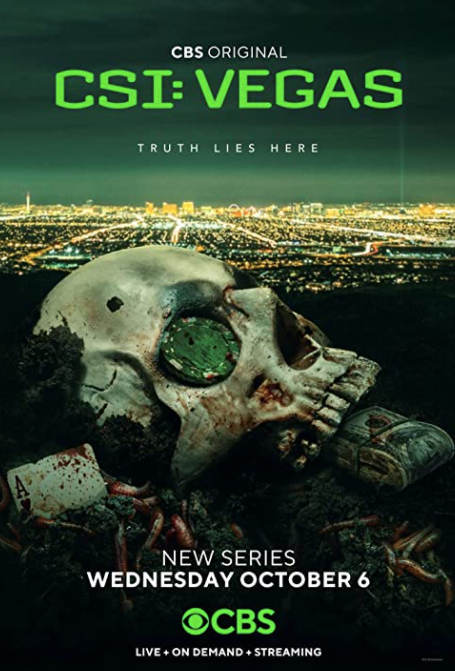 My favorite line in tonight's
CSI: Vegas
1.7 comes from Grissom, who tells Max, working on a complex splatter pattern, "There's a killer's signature in there somewhere, Monet". Impressionism has always been my favorite kind of painting, and Monet my favorite Impressionist, but I would've liked that line, anyway, because it captures Grissom's fount of erudition. And, it doesn't hurt that I also put Monet's name in
one of my novelettes
.
Much later in the hour, Grissom is in a conversation with Wix's sister, who tells him, "The best story wins." All too true, and not a commentary on the best novelette or best movie or TV series. It's rather part of an attack on the truth, that has always played a role in the heroes versus villains in CSI, and now threatens our democracy. I hate to get all political in a review like this, but that's exactly what happens when a former President says over and over again that he won the election that booted him out of office, when misinformation spreads like wildfire about the COVID pandemic, which is still causing unnecessary deaths in people who deny the value of powerfully effective vaccines, etc.
Grissom has so far not voiced an explicit opinion about Trump or the pandemic, but there's no doubt where he stands on truth and evidence. A little after Wix's sister's denunciation of truth, Grissom indeed laments the attack that truth is currently enduring in our world. As not only a scientist, but someone who works to bring criminals to justice, Grissom makes a good spokesman for truth. I'd certainly vote for him if he ran for office.
Meanwhile, there's a nice bombshell at the end of this excellent episode. I'll be back here next week, with a review of how all that works out.
See also: CSI: Vegas 1.1: CSI on Trial ... CSI: Vegas 1.2: My Half-Joking Suggestion for the Villain ... CSI: Vegas 1.3: Three Especially Enjoyable Facets ... CSI: Vegas 1.4: Difficult Progress ... CSI: Vegas 1.5: Double Header ... CSI: Vegas: 1.6: Bald Luminol