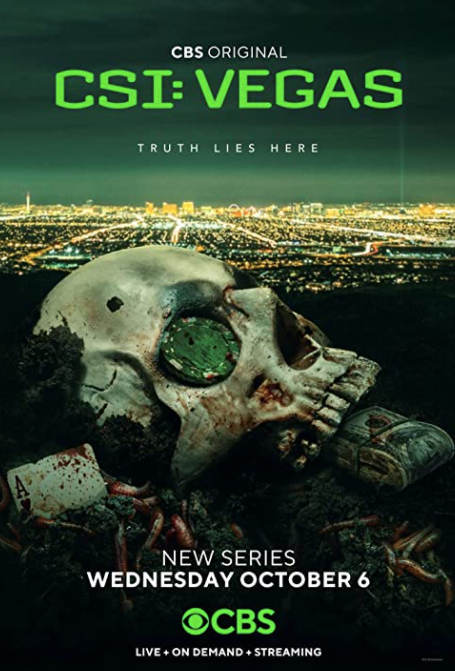 A top-notch CSI: Vegas 1.6 tonight -- easily the best so far of the rebooted series -- because, in a nutshell, it had two top-notch stories.
First, it turns out that the blood splatter on the wall that so impressed Gil last week was not quite the thing that impressed him: it was the luminol (possibly he said that last week and I wasn't paying sufficient attention). The luminol came from CSI, and seemed to implicate Chris (an excellent new character) but dandruff and other evidence led to another suspect -- an attorney who had a great motive for discrediting CSI, to wit, the 40% he would net in attorney's fees for as many of the 8000 suits occasioned by Hodges' tainted work that the attorney could handle. I like stories in which the or an attorney is the villain.
Now this first, primary, continuing case has not been thoroughly put to rest, but the second story proved to be a continuing proposition, too. It was a little trite -- an arrogant psycho in prison who can manipulate hapless souls on the outside to do his deadly dirty work -- but the part and the killings and the investigation were well played. And, most important, the psycho is promising that tonight's story was just the beginning, and a flood of his sick atrocities would follow.
So there are two ways that CSI: Vegas could now go. The Hodges case could hand-off to the psycho in prison case, and it'll be fun to see where that goes. Or -- is it possible that the two cases are somehow related? That the bald attorney with dandruff is somehow doing the psycho's bidding?
Probably not, but the new CSI is picking up speed and appeal as it moves along, and I'm happy to be here for the ride.
See also: CSI: Vegas 1.1: CSI on Trial ... CSI: Vegas 1.2: My Half-Joking Suggestion for the Villain ... CSI: Vegas 1.3: Three Especially Enjoyable Facets ... CSI: Vegas 1.4: Difficult Progress ... CSI: Vegas 1.5: Double Header